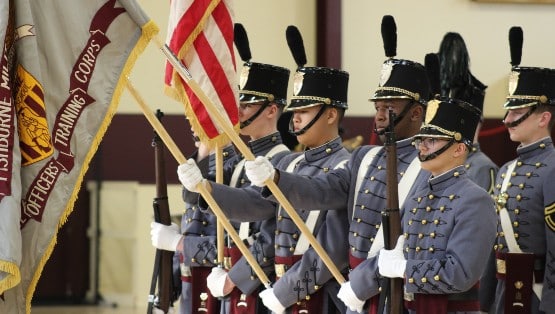 The Blessing of the Colors is a military tradition during which the flags of the U.S., the Commonwealth of Virginia, Fishburne Military School and Augusta Military Academy are blessed.
FMS will hold the Blessing of the Colors ceremony in Hitt-Millar Fieldhouse on Friday, Sept. 15, 2023, at 3 p.m. The event is open to the public.
The ceremony originates from when combat was conducted in close quarters and was necessary for soldiers to determine the location of their regiment in the heat of battle. The regiment would carry its colors into the fight. The colors are a set of large flags, unique to each regiment, that each soldier could identify immediately. As time passed, the colors took on a more mystical significance than mere identifying markers on the battlefield.
For this reason, the colors are escorted and guarded during ceremonies. The honored practice of carrying the colors into battle was discontinued because members of the Color Party were prone to casualty. Today, the National and Organizational Colors still join their units in formations and ceremonies to signify past accomplishments, and present and future hopes. FMS carries forth the honoring of the colors in the Blessing of the Colors annual ceremony.
This year's ceremony will be officiated by Dr. Paul Mark Simpson of Rawlings School of Divinity at Liberty University with guest speaker BG William W. Alexander, Jr., a retired superintendent of FMS.