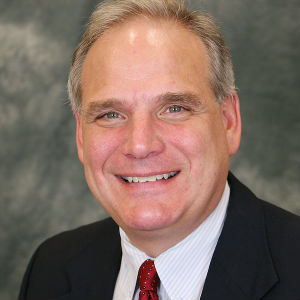 Ethan Saliba, Virginia's associate director of athletics for sports medicine, is being recognized for his service to UVA athletics this weekend.
In his 34th year as a member of the Cavaliers' athletic training staff, Saliba was presented the University of Virginia's Algernon Sydney Sullivan Award during Friday's Valedictory Exercises. On Saturday, Saliba will be inducted into the Mid-Atlantic Athletic Trainers' Association Hall of Fame.
The Algernon Sydney Sullivan Awards are presented for excellence of character and service to humanity and are given each year to one woman and one man from the graduating class (undergraduate or graduate) and to one non-student member of the University community.
Algernon Sydney Sullivan, born in Indiana in 1826, rose to success in New York City as a respected lawyer and a man who "reached out both hands in constant helpfulness" to others. After his death in 1887, the Society sought to honor him and the award bearing his name was established in 1925 by a Sullivan Memorial Committee and the New York Southern Society, which Mr. Sullivan had served as its first president.
The award seeks to perpetuate the excellence of character and humanitarian service of Algernon Sydney Sullivan by recognizing and honoring such qualities in others.
This award is intended to honor those who have been described as "unsung heroes" or "the angels among us." These are the students and University community members who strive each day to better the lives of those around them, but do so without thought of recognition or reward.
The awards were established by the New York Southern Society in 1925 in memory of Mr. Sullivan.
Saliba's induction into the MAATA Hall of Fame will take place during the organization's annual symposium in Virginia Beach. To be considered for the MAATA Hall of Fame, inductees must have been a practicing athletic trainer for a minimum of 20 years and must have worked in Virginia for at least 15 years.
Saliba originally joined the UVA athletics department as an assistant athletic trainer in 1983. He has served as UVA's head athletic trainer since August of 1998. He oversees all daily athletic training room operations, including: staff, clerical and student assignments; injury management and rehabilitation; and ensuring medical coverage for all UVA varsity athletes. He is the head athletic trainer for the Cavaliers' men's basketball team.
He was promoted to associate athletics director for sports medicine in September of 2007 after serving as an assistant athletics director for four years. Saliba has faculty appointments as a professor in Virginia's Curry School of Education and as an assistant professor in the Department of Clinical Orthopedic Surgery and the Department of Physical Medicine and Rehabilitation.
Saliba was inducted into the Virginia Athletic Trainers Association in 2011.