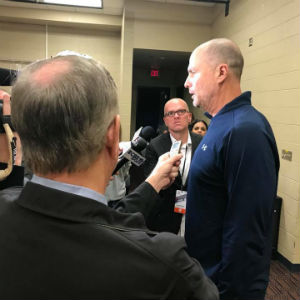 The ESPN College GameDay crew – Rece Davis, Seth Greenberg, Jay Bilas and Jay Williams – are in Charlottesville for Saturday's game between #2 Virginia and Virginia Tech.
The GameDay visit is the third in the past four seasons. The previous two were perhaps expected. The 2014-2015 team that hosted GameDay, for a game with Duke, was coming off an ACC title and Sweet Sixteen run. Then the 2016 team was on its way to a second #1 national seed in three years and an appearance in the Elite Eight.
This year's 'Hoos didn't carry those sorts of expectations, beginning the season unranked for the first time since 2012.
Count the GameDay guys among those surprised that they're back in town with Virginia knocking on the door of a #1 national ranking.
"I didn't see it coming. I saw a team that was going to be able to sustain an effort and play. I didn't know they were going to run through the gauntlet like this," said Williams, the national player of the year at Duke in 2001, when he led the Blue Devils to a national title.
Virginia (23-1, 12-0 ACC) has won 15 straight, and coach Tony Bennett is doing it with a group that some in the chattering class say isn't as talented as the teams in 2014, 2015 and 2016 that put up ACC banners and played deep into March.
Bilas, who was part of Duke coach Mike Krzyzewski's first Final Four team, in 1986, sees a roster full of players "who are underappreciated for how good they are individually."
"They are vastly underrated. But you're not going to see any of them as first-round draft picks. So, for them to play at that level, it's a collective thing where the whole is greater than the sum of the parts," Bilas said.
Greenberg, the former coach at Virginia Tech, who coached against Bennett head to head six times, splitting the matchups at three games apiece, loves the versatility of this year's Cavaliers.
"Ty Jerome, I'm sure you guys have a name for him. He surely deserves a name. He's hit some big-time shots, and he's not afraid of that moment. And I love Devon (Hall) and Isaiah (Wilkins). I think they bring a toughness and a stabilizing influence. And De'Andre Hunter is a brutal matchup. His versatility gives Tony so many options," Greenberg said.
Greenberg dismisses the notion that you still hear from some quarters that Virginia's style of play is somehow bad for the game.
"I love the way they play," Greenberg said. "You don't have to be a cookie-cutter. Everyone doesn't have to play the exact same way. Run a play, back it out, run a ball screen. That's great. If we want to be the NBA, we're never going to be as good as the NBA.
"The diversity of the way people play is, to me, really good for our game. I love to watch them play. Virginia fans love to watch them play. You want to be the kind of team that other people don't want to play against. To me, that's the whole goal. You know you have a good team when you're a team that other people don't want to play against. And that's who they are."
Bilas picked up on that point, talking about how Virginia is a team that is hard to play against because its focus is so much on disrupting rhythm.
"Basketball, most people agree, is about rhythm, establishing yours, disrupting theirs. And they disrupt rhythm better than anyone I've seen in I don't know how many years," Bilas said. "I can't think of anybody that's been this good without having a dominant shot-blocking presence. Devon Hall and Isaiah Wilkins are great individual defenders, but it's not like a, well, this guy is the best defender I've seen, type of deal. Five as one on the floor, this team plays better defensively than anyone I can remember."
Williams offered praise on Virginia's "willingness and effort" on both ends of the floor.
His take on the talent: "Kyle Guy is really good. Ty Jerome is really good. Devon Hall is really good. You have a lot of really talented players on this team. But the thing that makes them great is the system, and the fact that they've all bought into the system."
Story by Chris Graham