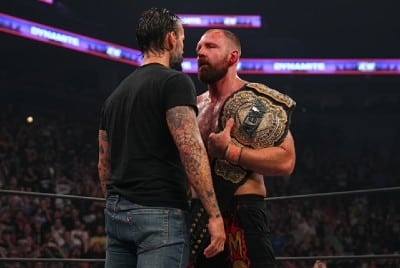 Eric Bischoff, the failed WCW president who had a run of being hired and fired by WWE before settling in as a podcaster, had the temerity on his most recent pod to say that AEW's Tony Khan books "like a 14-year-old."
"He's booking, in my opinion, like a 14-year-old would – who would have a lot of toys and things he can play with," said Bischoff, whose podcast is titled "83 Weeks," for the length of time his WCW "Monday Nitro" beat WWE's "Raw" in the ratings, from 1997-1998.
Getting past how Bischoff's "Nitro" beat "Raw" for 83 straight weeks – he had "a lot of toys and things" to play with, and used them well, until he didn't, and WCW went belly-up – what about the substance of Bischoff's latest diatribe?
"He's going to wake up one day and realize that being a dirt sheet booker and catering to the internet wrestling community is a wonderful thing, because your name is on the internet all the time, but it's not going to grow beyond the point that it currently exists," Bischoff said. "Because you're only serving a small portion of the audience, you're not reaching out to the broader audience. Not everyone breathes, sleeps, and eats wrestling, you know? The internet audience does, but there's a more, I don't want to say passive, but a less-committed viewing audience out there that's really important."
Former manager and promoter Jim Cornette often makes this same point – that AEW needs to book to a broader audience, to try to capture a bigger share of the lapsed fans from the height of the Monday Night Wars, when "Raw" and "Nitro" routinely drew in the range of 5-6 million viewers each, though there was plenty of overlap in those numbers.
Just assuming that there were 6 million regular wrestling viewers 25 years ago, both AEW and WWE have work to do to try to attract the lapsed fans – WWE's "Raw" and "Smackdown" draw in the range of 2 million viewers per week; AEW's "Dynamite" gets either side of a million.
Both do their fair share of things to try to attract new fans – think: AEW bringing in Shaqille O'Neal and Mike Tyson, WWE going the route of matches involving Jake Paul, Bad Bunny and Johnny Knoxville.
There's a fine line to be drawn to doing those kinds of things to broaden the appeal, but not going too far to turn off the people who tune their TV sets to you each week.
Think: Bischoff putting the WCW world title on actor David Arquette; Bischoff booking Dennis Rodman and Jay Leno for matches.
Seriously, he did all three. And then has the balls to say that somebody else books like a 14-year-old.
It's not the 1990s anymore. TV and streaming today is an infinitely more competitive environment.
WWE, with a third of its viewers from the 1990s, pulls in many multiples from its TV deals with NBCUniversal and Fox today compared to the good ol' days.
AEW, for its part, is locked into a deal with Discovery that pays the company considerably less, but that deal runs out in 2024, and just based on its regular TV numbers, it is due a bump that will pull it to within shouting distance of the folks in Connecticut.
Bischoff used to be among the guys making the deals behind the scenes, and it has to kill him to be the guy shouting at everybody to get off his lawn these days, but that's pretty much what he is.
He'll always have his 83 weeks.