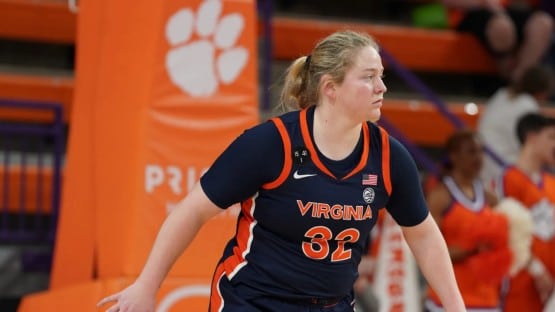 Clemson held off a late Virginia rally by going 9-of-9 at the line in the fourth quarter on its way to a 79-69 win on Thursday.
The Tigers (15-14, 6-11 ACC) led 35-30 at the half, and closed out the period on a 10-2 run to lead 56-43 heading into the fourth quarter.
A free throw from Taylor Valladay narrowed the deficit to four, 73-69 with 2:07 remaining.
With 43 seconds to go, Brie Perpignan hit a pair of free throws put Clemson up 75-69. Virginia (15-13, 4-13 ACC) turned the ball over on its next possession, and Perpignan made a pair of free throws to put the Tigers up 77-69 with 26.3 seconds remaining, and that, for all intents and purposes, was the ballgame.
Camryn Taylor scored 15 points with nine rebounds to lead UVA. Cady Pauley scored a career-high 12 points. McKenna Dale also had 12 points, while Taylor Valladay scored 11 points with four assists.
Clemson also had four players score in double figures, led by 18 points from Amari Robinson. Brie Perpignan, Daisha Bradford and Eno Inyang each had 14.
"I am very frustrated with how we competed today," Virginia coach Amaka Agugua-Hamilton said. "We didn't fight. We didn't want it. We did things that are uncharacteristic. It was embarrassing, to say the least. And I think everybody felt that. I want to apologize to Wahoo Nation for the way we conducted ourselves tonight. We will definitely get better."