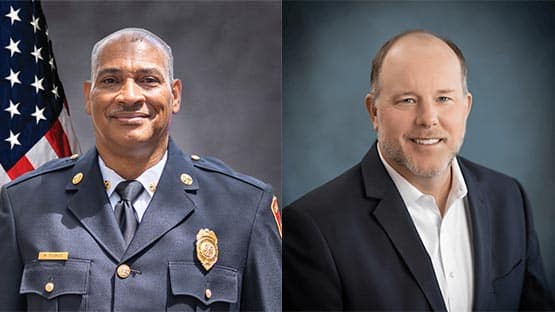 Charlottesville City Manager Sam Sanders has announced the selection of Michael L. Thomas as Fire Chief and Steven W. Hicks as Interim Deputy City Manager for Operations.
Fire Chief
Thomas holds a Bachelor of Science degree in Business Administration and an associate degree in Fire Science. He holds certifications as a fire inspector, fire investigator, certified LEO, incident safety officer and has attended the National Fire Academy as well as International City/County Management Association's Professional Development Academy.
Thomas has more than three decades of fire and EMS service experience and joined the Charlottesville Fire Department after retiring from the Lynchburg Fire Department.
He has been with CFD since June 2022 serving first as the Deputy Chief of Community Risk Reduction and most recently as interim fire chief, where Thomas ensured uninterrupted continuity of the overall department functions.
"Chief Thomas has had a stabilizing presence in that period, and I am excited to see what he brings to the role now that interim is dropped," said Sanders. "I trust that Chief Thomas will lead his team with honor and professionalism as they meet the high standards of serving the people of Charlottesville."
Interim Deputy City Manager for Operations
Hicks has been with the city for a few months, serving as the Senior Transportation Project Manager in the engineering division of Public Works.
He was previously the Town Manager of Front Royal and Town Manager of Selma, N.C.
Hicks holds a Master of Science Degree in Civil and Infrastructure Engineering from George Mason University and a Bachelor of Science Degree in Urban Studies from Virginia Commonwealth University. He also is a graduate of the University of Virginia Darden School Senior Executive Institute, the University of North Carolina School of Government, Municipal and County Administration and the Virginia Tech Transportation Construction Management Institute.
"I met Steven over a year ago at the VLGMA conference and I found him to be a great resource for having just met me, but in talking with him, I heard his words define him as a coach, mentor and collaborator," said Sanders. "These being all things important to me, I feel comfortable and excited to add him to the team."
Hicks started his new role today.