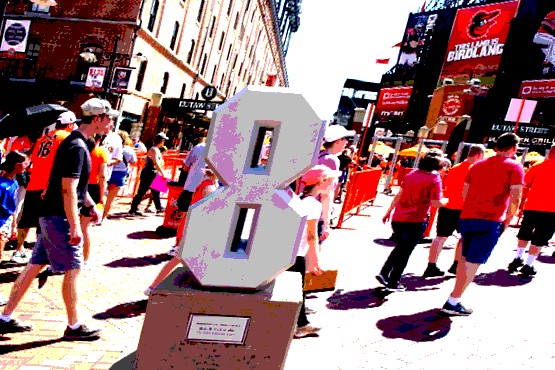 John Angelos was the subject of a lengthy article in Monday's New York Times.
John Angelos, not a player, not the GM, the manager.
John Angelos is probably the number one person all Oriole fans would like to see a lot less of.
His team, the Baltimore Orioles, have been the feel-good story of Major League Baseball so far this season. They currently lead the AL East with a 77-47 record, which is good for the second-best record in all baseball.
Yet, instead of basking in the success of the team, Angelos continues to be the dark cloud hanging over Camden Yards.
So exactly what did Angelos tell the NY Times?
Here's the Cliff's Notes version: The Orioles "will not spend more without making more."
OK, John, attendance is up almost 30 percent from last season, and should increase even more down the stretch.
"We're going to have to raise the prices here dramatically, to just compete."
Seems like Johnny didn't learn much about economics, in particular, the law of supply and demand. The team has already raised prices, by not having to give away tickets. The demand for Oriole tickets is greater, and thus far fewer discount games have appeared on the schedule.
"Sports franchises should live within your means and within your market."
Again, Johnny, you have yet to take advantage of the $600 million the Maryland Stadium Authority has authorized to the Orioles for simply resigning the stadium lease.
Who does this idiot think he is?
Baltimore is coming off a 6-3 West Coast road trip that was led by Rookie of the Year frontrunner Gunnar Henderson, one of the brightest stars in all MLB.
The Orioles have now led the grueling AL East for 32 consecutive, days and the town is abuzz.
Instead, as the club enjoyed an off-day Monday, this bizarre story showed up in the NY Times.
Was Angelos afraid to give that glee of good news to the hometown Baltimore Sun?
Maybe he didn't think anyone would read it because he's not seen any Times vending machines in Baltimore?
Hint Johnny, there aren't any Baltimore Sun vending machines in town, either. But there is this thing called the internet.
No one feels sorry for John Angelos
The owner is screaming poverty, even though his team's payroll is second lowest in all of baseball.
Angelos continues to gush over The Battery in Atlanta, a development surrounding the ballpark with apartments, restaurants and other entertainment and businesses.
Angelos wants to create that around Camden Yards.
Great idea, but the main rub here is he doesn't own any of the land around the stadium.
And he could be geographically challenged. Truist Park, Atlanta's home stadium, is about 15 miles from downtown Atlanta. Braves ownership bought up the land around the park to create The Battery.
My take on this latest Angelos blunder is that he's simply trying to strong-arm the Maryland Stadium Authority and the State of Maryland to hand him another couple of hundred million dollars to buy property around Camden Yards.
It's a challenge to operate a winning team in a small market in a league with no salary cap. But with these latest shenanigans by Angelos, he's doing harm to a franchise that has struggled for most of his family's ownership tenure.
Trust me, he's not getting any sympathy from Oriole fans.
You can't blame Orioles Nation for ignoring an owner who can claim $600 million in public money simply by signing a lease agreement.
$600 million!
Putting this in perspective, the Milwaukee Brewers, another small market team, is threatening relocation because they failed to get a $290 million package in place.
Orioles fans need not fret 
MLB will not pass on the $600 million the Orioles have on the table. Any threat of relocating the team to Nashville (where Angelos has a home) will be shot down. MLB wants to expand by two teams soon. Nashville is considered the frontrunner by a zillion miles.
Relocation would need at least 25 owners' approval. The Angelos family are considered outsiders to other MLB owners. He's not getting 25 yes votes.
MLB has three other franchises in serious trouble: Oakland, Tampa Bay, and Miami. Baltimore isn't on that list.