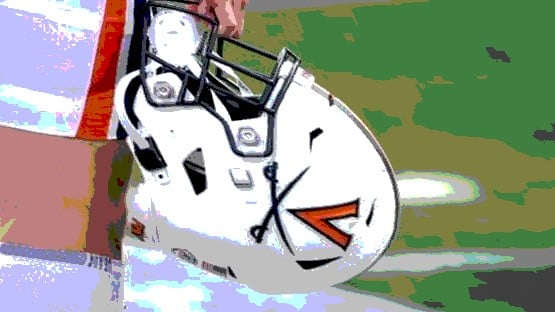 A Hail Mary TD pass on the final play of the first half sent Virginia into the locker room up 21-7. Boston College dominated from there, rallying for a 27-24 win that sends the 'Hoos to an 0-5 start in the 2023 season.
Tony Muskett, making his first start since going down to injury in the fourth quarter of the season-opening 49-13 loss to Tennessee on Sept. 2, put up good counting numbers – 22-of-34, 247 yards, three TDs, one INT.
But the BC defense controlled the line of scrimmage in the second half, limiting Virginia, which had 274 yards of total offense in the first half, to just 39 yards in the second half.
The Eagles (2-3, 1-1 ACC) took control on the other side of the ball by dominating the trenches, gaining 162 yards on 33 rushing attempts.
A 42-yard Liam Connor field goal started what turned into a 17-point Boston College third quarter.
The Eagles would score on their first three second-half possessions, getting a 4-yard TD pass from Thomas Castellanos to Joe Griffin to get within 21-17 with 6:09 left in the third, then a Castellanos-to-Lewis Bond 33-yard TD pitch-and-catch that put the Eagles on top.
Virginia (0-5, 0-2 ACC) tied the game at 24-24 on a 44-yard Will Bettridge field goal that followed a BC fumble.
The Eagles ran their four-minute offense masterfully, going 11 plays, 51 yards – 30 yards coming on the ground – and eating up 4:59 of game clock before another 42-yard field goal from Connor put them on top.
Virginia couldn't move the chains on its final possession, with a Muskett pass intended for Jaden Gibson over the middle getting nowhere near its intended target.
Muskett, in the second half, was 6-of-13 passing for just 29 yards, with one pass intercepted.
The FCS transfer was under heavy pressure all game long, with the BC front – which had registered just five sacks in its four games in 2023 coming in – sacking Muskett five times, and being credited with seven QB hurries.
The UVA O line, underperforming all season long, was also penalized five times for 35 yards of lost yardage, and the ground game was only able to gain 95 yards on 24 rushing attempts.
The UVA defense was solid in the first half, limiting BC to 120 yards of total offense, but as has been the case too much this season, the D wasn't able to maintain for four quarters.
Castellanos was 16-of-26 passing for 183 yards, two TDs and two INTs, and gained 78 yards on the ground on 16 rushing attempts.
In terms of pressure from the Virginia front, there was very little – no sacks, three QB hurries, according to the scorebook.