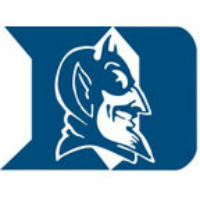 Hall of Fame broadcaster Bob Harris, the Voice of the Blue Devils for the past four decades, will retire from his post following the 2016-17 men's basketball season.  Harris, who will retire as the longest-tenured play-by-play announcer in the history of the Atlantic Coast Conference, will make a public announcement tomorrow (Wednesday, July 6) at a press conference set for 12 noon in the Bill Brill Media Room in Cameron Indoor Stadium.
A three-time recipient of the North Carolina Broadcaster of the Year honor from the National Sportscasters and Sportswriters Association in 1988, 1991 and 2011, Harris is a member of the North Carolina Sports Hall of Fame (inducted in 2006) and the Stanly County Sports Hall of Fame (1993).  In 2009, he was honored with the Atlantic Coast Conference's prestigious Skeeter Francis Award, an honor presented annually to individuals for distinguished service to the league.  In 2016, Harris received The Order of the Long Leaf Pine, an honor conferred by the Governor of North Carolina for exemplary service to the State of North Carolina and its communities.
Harris will enter the 2016 football season with an active streak of 459 consecutive games announced, a run that began on September 11, 1976, with Duke's 21-18 victory over Tennessee.  He has called six postseason bowl games (1989 All American, 1994 Hall of Fame, 2012 Belk, 2013 Chick-fil-A, 2014 Hyundai Sun & 2015 Pinstripe) along with Duke's appearances in the Coca Cola Bowl against Clemson on November 30, 1991, in Tokyo, Japan, and the Dr Pepper ACC Championship Game versus Florida State on December 7, 2013, in Charlotte, N.C.
Harris has worked with nine head football coaches (Mike McGee, Red Wilson, Steve Sloan, Steve Spurrier, Barry Wilson, Fred Goldsmith, Carl Franks, Ted Roof & David Cutcliffe) and 114 assistant coaches while calling the action alongside analysts Wes Chesson, John McNabb and Danny Highsmith.  The Harris-Chesson tandem has manned the Blue Devil broadcast booth for the past 35 seasons and partnered in 2000 to call the 64th annual Shrine Bowl of the Carolinas, a high school football all-star event featuring teams from North and South Carolina.  In addition, Harris has been joined on football broadcasts by sideline reporters Tony Haynes, Anthony Dilweg and Johnny Moore along with spotters Clyde Cupples and Joel Stutts and statisticians Bristol Maginnes, Eric Brooks, Joe Beavers, Mike Sobb and Tripp Winkler.
On the hardwood, Harris has called 1,358 Blue Devil basketball games including 104 tilts in the storied Duke-North Carolina rivalry.  He has worked 13 NCAA Final Four events while calling 10 championship games including all five of Duke's national titles in 1991 (Indianapolis), 1992 (Minneapolis), 2001 (Minneapolis), 2010 (Indianapolis) and 2015 (Indianapolis).  Harris also has broadcast 16 ACC Tournament championship game victories for the Blue Devils in 1978, 1980, 1986, 1988, 1992, 1999, 2000, 2001, 2002, 2003, 2005, 2006, 2009, 2010 and 2011.
With Duke basketball, Harris has worked with a pair of head coaches (Bill Foster & Mike Krzyzewski) and 26 assistant coaches.  Analysts to work with Harris include Glenn Smiley, Bob Bender, Jay Bilas, Billy King, Johnny Dawkins, Steve Wojciechowski and John Roth while sideline reporter Matthew Laurance and statistician Phyllis Harris also have accompanied the broadcasts.
Additionally, Harris has worked with nine engineers during his tenure, including the past 13 seasons with John Rose, plus Donnie Tuck, Paul Matthews, David Modlin, Mike Waters, John Brockwell, Rusty Helser, Bob White and Ben Alexander.
Born in 1942 and a native of Albemarle, N.C., Harris got his start in broadcasting in 1967 as the Sports Director at WZKY in his hometown, and later served as the Sports Director at WDNC in Durham from 1975-97.  He has served as the President of the North Carolina Sportscasters Association (1976), President of the Atlantic Coast Sports Media Association (1992) and Honorary Chairman of the North Carolina Beautiful Golf Classic (2010) while also serving as a member of the Board of Directors of the North Carolina Sports Hall of Fame (1996-08) and Board of Directors of Special Olympics North Carolina (2016-present).
In December of 2010, Harris published his autobiography, "How Sweet It Is!: From the Cotton Mill to the Crows' Nest".
Over the course of his career, Harris has been involved with many charitable organizations including the Add Penfield Regional Consolidated Services Golf Tournament, Agape Corner School, ALS Association (Jim "Catfish" Hunter Chapter), Brad Johnson Celebrity Golf Classic, Brain Injury Association of North Carolina, Brenner Children's Hospital, Celebrity Waiters Dinner for Leukemia Foundation, Children's Charities of the Bluegrass, Children's Miracle Network, Duke Children's Hospital, Duke University Hospice, Eastern North Carolina Spinabifida Association, Emily K Foundation, Fellowship of Christian Athletes, Grande Dunes Make-A-Wish Pro-Am, Hebron Colony Ministries, Juvenile Diabetes Association of North Carolina, March of Dimes, Meet Me At The Bridge Charity, Me Fine Foundation, Mulligans For Kids Golf Tournament, National Multiple Sclerosis Society, Nazareth Children's Home, New Hanover Medical Center, North Carolina Realtors Charity Challenge, North Carolina Vietnam Veterans Association, Oxford Masonic Home for Children, Ronald McDonald House of Durham, South Brunswick Educational Fund, Susan G. Komen Race for the Cure, Triangle United Way, United Way of North Carolina, and The Willie Stargell Foundation.
Bob and his wife, Phyllis, married 53 years, are proud of their supportive family: daughter Bobbi Harris-McCoy, son-in-law, Ron McCoy, and two grandchildren, Tripp and Meredith Winkler.