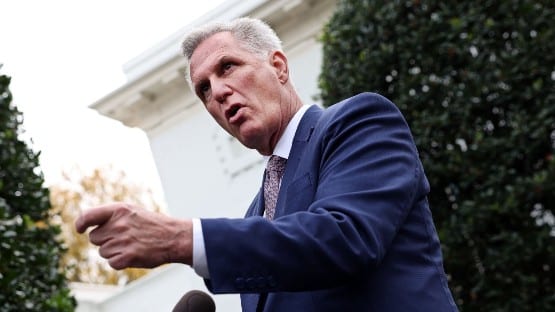 Eight Republicans, including Bob Good, who represents Virginia's Fifth District, which runs along a healthy stretch of the Route 29 corridor in Central Virginia down to the North Carolina border, keyed the historic takedown of House Speaker Kevin McCarthy on Tuesday.
The eight joined with Democrats in a 216-210 vote on a motion by Florida Republican hard-liner Matt Gaetz to vacate the speaker post.
The move by Gaetz, himself the subject of an ethics investigation that could lead to his removal from the House, was the punishment for McCarthy after he worked with Democrats and moderates in his own party to craft and pass an 11th-hour deal that averted a government shutdown over the weekend.
McCarthy, you may remember, was elected to the speaker post in January at the end of an embarrassing 15-ballot spectacle in which Gaetz and other GOP hard-liners extracted a number of minor political concessions, including the revival of the motion to vacate, which would give one member the power to force a vote on removal.
Because Republicans have just a nine-member majority in the House, the hard-liners only needed to have five from among their ranks flip, assuming Democrats would vote en masse for removal, to achieve their aim.
Democrats, who feel burned by McCarthy's willingness to cave to the hard-liners, giving in to their demands and to a push from former president Donald Trump to launch impeachment proceedings against President Biden, and allowing them to push the government within hours of another shutdown, did their part, letting McCarthy die on the vine.
"Since Day 1 of the 118th Congress, McCarthy has shown an inability to govern, a lack of leadership over his conference, and an unwillingness to focus on the issues that matter to the American people. McCarthy has also proven he cannot be trusted, and his word means nothing," said Jennifer McClellan, who represents Virginia's Fourth District, which includes the Richmond area and a large swath of Southside, in a statement after the vote.
"Today's vote represents whether I want to further enable a speaker who, in demonstrating a lack of principles, has hurt our country, damaged our democracy, and threatened the financial security of my constituents for political purposes. In the absence of any desire by Speaker McCarthy to reverse course and focus on governing, the answer is no," said Abigail Spanberger, a Democrat who represents Virginia's Seventh District, which includes portions of Central Virginia and the NoVa exurbs, in a statement that her office released ahead of the vote.
Good, one of the eight, who had also been among the malcontents who delayed the speaker vote back in January, tweeted ahead of the vote on Tuesday that "(t)he American people need a Speaker who will fight to keep the promises Republicans made to get the majority, not someone who cuts fiscally irresponsible deals that get more Democrat votes than Republican votes," obviously harkening back to last week's budget deal.
Another tweet from Good: "The American people did not give Republicans the majority to join with Democrats and pass bills that keep the Biden-Schumer-Pelosi reckless spending and radical policies in place."
Virginia Republicans exercising their right to remain silent, for now, after voting to keep McCarthy in the speaker post, are Ben Cline, who represents the Sixth District, up and down a long stretch of the Interstate 81 corridor in the western part of the state; Morgan Griffith, whose Ninth District represents Southwest Virginia; and Rob Wittman, over in the First District, which is the Northern Neck and a slice of Hampton Roads.
The bigger slice of Hampton Roads goes to another Republican, Jen Kiggans, who had a lot to say about what went down on Tuesday.
"DC games are a waste of taxpayers' time," Kiggans tweeted. "I'm focused on what Virginians elected me to do: govern. We must pass our remaining funding bills before time's up. To detract from our ability to do so is wrong. I'll leave the gimmicks to unserious lawmakers with misguided priorities."
The motion to vacate means, for the time being, that the House will be run by an acting speaker, Patrick McHenry, a Republican from North Carolina, as Republicans and Democrats figure out what to do next.
Democrats will almost certainly nominate Minority Leader Hakeem Jeffries to stand as their candidate for speaker, though, no, that won't happen.
Republicans have proven themselves unable to govern, but they're not stupid.
McCarthy, who had been widely expected to put his name back into the hat on the Republican side, announced later in the day that he will not seek to be returned to the speaker position, leaving the race on that side wide open.