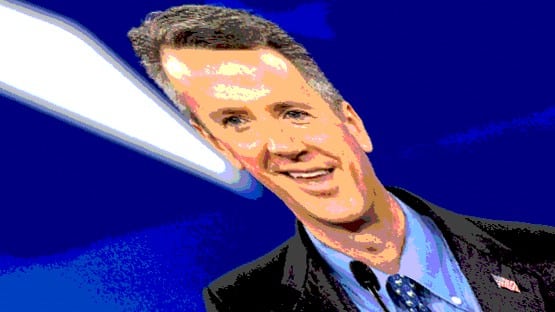 Sixth District Republican Ben Cline went radio silent for several hours after voting Tuesday to retain House Speaker Kevin McCarthy.
We finally heard from Cline Tuesday night, but the late-night statement on what transpired – McCarthy was removed, with eight Republicans, including Cline's brother-from-another-mother from over in the Fifth District, Bob Good, joining Democrats to make that happen – leaves us with more questions than answers on where he stands.
"My goal next week is to support the most conservative candidate who can get the 218 votes needed to become our next speaker. I look forward to being home over the next several days and hearing from my constituents of the Sixth District about who they think will do the best job," Cline tweeted late Tuesday.
Controversially, House Republicans will have the "next several days" to be home to talk with their fat-cat donors about who they want in McCarthy's place, after the acting speaker, Patrick McHenry, a Republican from North Carolina, adjourned the House until next week.
This, as the House is mired in chaos, without a leader, and as the calendar moves closer each day to the next shutdown deadline in mid-November.
The deal struck by McCarthy with House Democrats and moderates in his Republican caucus last week to avert a shutdown at midnight on Saturday night kicked the can down the road toward that mid-November deadline.
That deal, also, was what ultimately sealed McCarthy's fate, in terms of his ability to continue as speaker.
A key provision of the package of concessions that McCarthy had to agree to back in January to get the votes to become speaker included one that would allow a single House member to be able to call for a motion to vacate, which Florida Republican Matt Gaetz invoked this week to start the ball rolling toward the vote that toppled McCarthy on Tuesday.
That Gaetz and his gang of eight don't even have a replacement for McCarthy in mind speaks to the basic inability of House Republicans to govern.
Cline's comment about supporting "the most conservative candidate who can get the 218 votes needed to become our next speaker" is telling as to what will happen next in that respect.
Note the hedge: Cline isn't saying he will vote for the "most conservative candidate," because the "most conservative candidate" won't be able to get 218 votes.
The drama over who can thread that needle will be playing out in backrooms on Capitol Hill over the next several days.
Meantime, we're hurtling toward another shutdown deadline, and despite the hard-liners like Gaetz and Good throwing shade at McCarthy for making a deal with Democrats to keep the government running – you know, how dare he? – the issue there is that Republicans, who have control of the budget process with their nine-seat majority, haven't been able to agree with each other on how to move forward toward a spending plan.
Part of the concession package agreed to by McCarthy back in January was to handle budget bills piecemeal, which would require the passage of 12 separate appropriations bills.
Which is to say, the reason we were hours away from a shutdown last weekend, and are no closer to having a budget today, has nothing to do with Democrats, and everything to do with Republicans.
Not that people like Cline are taking responsibility for that.
Cline, in his weekly "Sixth District Perspectives" column, which was posted on Tuesday, ahead of the vote that removed McCarthy was speaker, bemoaned the "last-ditch effort to keep the government funded," even as he noted that "there is still more work to do to pass all 12 annual spending bills, and House Republicans have already passed four of them, scoring big conservative wins to reduce overall spending to pay for what's important."
They've had literally all year, and they've passed four of the 12 spending bills they needed to have in place, and he's bragging about that?
"I came to Washington to end out-of-control spending and reverse harmful policies that have led to record-high inflation, a worsening economy, an invasion at our southern border, and woke and weaponized government. I won't stop working to pass our 12 individual spending bills to achieve those goals. That is what the people of Virginia's Sixth District elected me to do," Cline wrote.
He won't stop working, huh?
The guy is back home this week, on yet another recess.