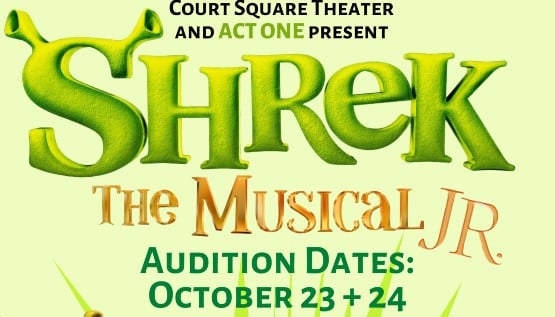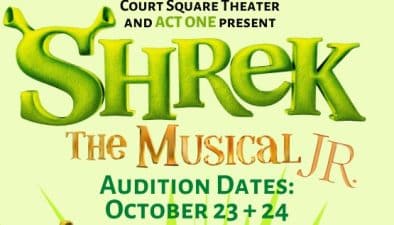 ACT ONE will present Shrek the Musical Jr. in February 2024 at Court Square Theater.
Auditions for children in second grade and older and adults will be held Monday, October 23 and Tuesday, October 24 on the theater stage from 5:30 to 8 p.m.
Actors are asked to prepare a one-minute monologue from any play and 16 bars of any song to be sung a cappella for an audition. Acting resumes and headshots are requested, but not required.
Co-directed by CST Managing Director J.P. Gulla and Second Home Learning Center Assistant Director Leeanne Shepherd, the production is scheduled Feb 22-25, 2024. Rehearsals will begin the first week of November and run through the February performances.
According to Gulla, ACT ONE selected Shrek the Musical JR to provide a fun, meaningful story that offers many rich roles for actors of all ages.
"Experience is not required," Gulla said. "ACT ONE is designed to foster a love for and understanding of theater through instruction in the various aspects involved in bringing a production from script to stage."
Gulla said ACT ONE offers an opportunity for actors who enjoy theater to learn more about what happens on and off stage.
ACT ONE is also seeking production crew members: assistant director, stage manager, set designer, set construction, scenic painter, lighting designer, sound designer, costume designer, props master, light board operator and sound board operator. Interested individuals should email Gulla at [email protected]
Beauty is in the eye of the ogre in Shrek The Musical JR., based on the Oscar-winning DreamWorks Animation film and fantastic Broadway musical. It's a "big bright beautiful world" as Shrek leads fairytale misfits on an adventure to rescue a princess and find true acceptance. Part romance and part twisted fairy tale, Shrek JR. is an irreverently fun show with a powerful message for the whole family.