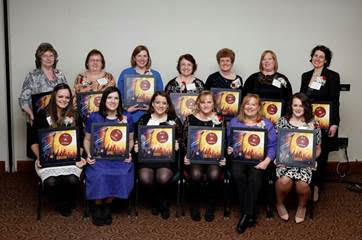 On Jan. 25, Augusta Health honored its 2017 class of Augusta Health Rock Stars.  Augusta Health Rock Stars are valued employees who have a profound influence on the culture of Augusta Health through their demonstration of four key qualities—compassion, expertise, safety and efficiency.
The Rock Stars awards were presented by Karen Clark, Vice President of Operations and Dan O'Connor, Vice President of Human Resources.
Photo ID (L to R):
Front Row:  Ashleigh Harman, Patient Access; April Strickler, CT; Ashlee Sragovitz, Augusta Health Gastroenterology; Eretta Booth, Radiology Special Procedures; Tina Heatwole, CT ; Sarah Myers, Laundry.
Back Row: Mary Roadcap, Patient Access; Sharon Gibson, Radiology; Paula Erickson, Radiology; Sandra Shields, Augusta Health Diabetes & Endocrinology; Tracy Sansossio, Infection Control; Brooke Templeton, Human Resources; Amy Ghaemmaghami, Outpatient Behavioral Health.