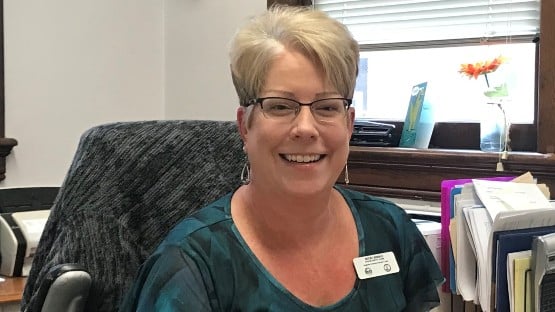 Rebecca L. Kimble has been promoted to Senior Deputy Clerk for the Land Record and Probate Divisions in the Augusta County Clerk of the Circuit Court's office.
Kimble will supervise both divisions, including three Deputy Clerks and a part-time Records Clerk.
"We are proud to announce Becky's promotion as Senior Deputy Clerk to supervise and coordinate our Land Record and Probate Divisions," Augusta County Clerk of the Circuit Court R. Steven Landes said. "Her knowledge and experience in both probate and land records will allow for better coordination of both divisions, and for her to effectively mentor and supervise both division's staff members."
Kimble, who joined the clerk's office as a part-time Probate Clerk in April 2017, became full-time for the Land Record Division in February 2018. She later began working as the Deputy Clerk for the Probate Division. She previously worked 12 years as a Legal Secretary for Attorney Preston B. Hicks.
A 1990 graduate of Spotswood High School in Rockingham County, Kimble earned an associate's degree in Office Systems from Blue Ridge Community College in 1992. She and her husband, Kirk, live in Weyers Cave with their children, Austin and Olivia.
In downtown Staunton, the Augusta County Circuit Court Clerk's Office is in the Augusta County Courthouse, and serves as the recorder of deeds and probate judge, issues marriage licenses and is the official court administrator for all civil and criminal cases. The Clerk creates and maintains all court files and records, prepares court orders and jury lists, contacts jurors and issues summons and court processes.