The Waynesboro Police Department has arrested an Augusta County woman who was wanted since November as she waited in line at the McDonald's drive thru, 1501 West Main Street.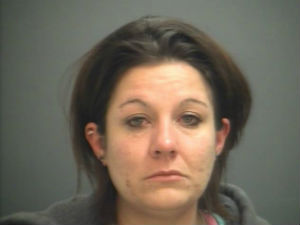 On Wednesday at approximately 5:30 p.m., officers went to McDonald's in search of Amber Jean Hurt, 32 years old, after an anonymous tipster advised them she was sitting in line in a Chevrolet pick-up truck. When two officers approached her vehicle, Hurt locked her vehicle and attempted to drive away. One of the officers was able to position his cruiser in a manner that prevented her escape.
Officers were able to remove her from her vehicle, but she was combative and showed signs of intoxication. They were able to subdue her and arrested her without further incident.
Hurt was wanted on two Waynesboro General District Court capias for probation violations. She will likely face additional charges related to her driving on a suspended license and resisting arrest.
She is being held without bond at Middle River Regional Jail.