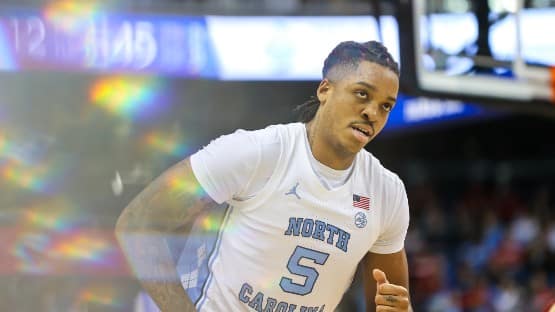 Armando Bacot, not surprisingly, is returning to North Carolina for his Kihei Clark season.
It's not surprising because, as good as Bacot, a 6'10"-ish center from Richmond, is at the college level, he's not an NBA prospect, which is why he returned for his regular senior season this year.
Bacot is, to emphasize, a really good college player, a two-time first-team All-ACC guy who has averaged a double-double in each of the past two seasons.
But the demand for back-to-the-basket 6'10"-ish guys at the next level is pretty much limited to front offices located across the pond.
SynergySports had Bacot shooting exactly 10 jumpers all last season – 10 (!).
Just under 80 percent of his shots were layups, dunks or tip-ins, according to Synergy. The rest were short hook shots, on which he shot 40 percent (18-of-45).
This is a day and age in the NBA when the best big guys (think: Karl-Anthony Towns, Joel Embiid) are bombs away from three (according to NBA.com, 35.5 percent of Embiid's shot attempts this season are inside of five feet, and 11.8 percent are threes; 29.3 of KAT's attempts are inside of five feet, and 27.3 percent are threes).
Maybe Bacot is coming back to UNC with the idea in mind that he's going to work in the spring, summer and early fall on his perimeter shooting, which he can then showcase in the winter months on Tobacco Road, but one would think he would have gotten advice to that effect this time last year, if not this time the year before, and either didn't act on it, or did, and it just didn't take.
More likely is that he's back for one more go at it in Chapel Hill because he'll make more in NIL money there than he would playing overseas, and then he'll trek to Europe or Asia to make some dollars and see the world for a few years before calling it a career.
None of this is good news for Carolina's ACC rivals, of course, because as much as Bacot is not an NBA prospect, he's a beast for college kids to have to cover in the post, and he'll come back a year older, a year wiser, and with something to prove after the Heels failed to make the postseason this year.