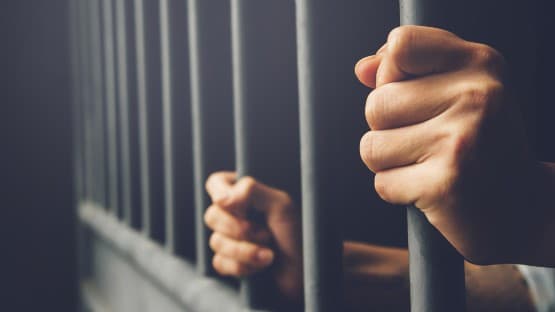 Leslie Puryear, 37, is among hundreds of Virginia state prison inmates who were told they were going home in the summer of 2022, under the terms of legislation passed in the General Assembly in 2020.
At the last minute, the Virginia Department of Corrections reversed course and denied his release. Puryear had to tell his wife and four children that he would not be coming home – as well as abandon his family's plans that he would attend his eldest child's high school graduation.
Jose Garcia Vasquez, 24, has never seen his daughter – now a second-grader – outside of prison. In between completing college classes, an electrician course, and working 30 hours every week in a prison job, he squeezes in time to talk to her every single day on the phone.
The ACLU of Virginia has filed two lawsuits – Vasquez v. Clarke and Puryear v. Clarke – challenging VADOC on its refusal to follow the 2020 state law.
Since 1995, the earned sentence credit program has made it possible for some people incarcerated in Virginia to earn their release. In 2020, the General Assembly passed a law increasing how many credits people can earn. This expansion of the program was expected to impact thousands of people currently incarcerated in VADOC facilities.
Yet for more than a year, according to the ACLU suit, the VADOC has been improperly withholding earned sentence credits from people who are eligible to earn them. The law states which convictions for attempts or conspiracies to commit certain offenses are eligible for the additional earned sentence credits, but VADOC has ignored the law, the ACLU contends, in order to withhold credits from people whose convictions are not listed among the excluded crimes.
The Virginia Supreme Court recently invalidated one aspect of VADOC's interpretation of the law in Prease v. Clarke, but VADOC has refused to apply that decision to other convictions.
"VADOC's choice to treat additional offenses as ineligible for sentence credits – offenses that are listed nowhere in the statute – is a slap in the face to lawmakers who already decided who can earn them, as well as to the Supreme Court of Virginia, which has reiterated that only the offenses listed are ineligible for those credits. It's time for VADOC to make good on the promise that lawmakers made. In Virginia, the General Assembly writes the laws, not VADOC," ACLU of Virginia Senior Staff Attorney Vishal Agraharkar said.
Puryear and Vasquez are two of thousands of people who followed all the rules of the earned sentence credit program, only to have VADOC's unlawful interpretation of the law deny them the release they had already worked hard to earn.
"Thousands of people like our client are incarcerated in Virginia and lawfully qualify for earned sentence credit, even if VADOC is trying to say that they don't," said Relman Colfax PLLC Partner Rebecca Livengood. "Prolonging their incarceration undermines public safety by eliminating any incentives for self-improvement, and it undermines lawmakers who already decided which people should be able to work toward their own release."
Vasquez v. Clarke and Puryear v. Clarke are the third and fourth cases that the ACLU of Virginia has filed on behalf of incarcerated people who were told they would be released, only to be told later they didn't qualify for the earned sentence credit program.
The Supreme Court of Virginia already ruled in Prease v. Clarke, agreeing that VADOC's interpretation of the law is incorrect and ordering Mr. Steven Prease's immediate release to his family in southwest Virginia. A decision in Anderson v. Clarke, the second earned sentence credit case filed by the ACLU of Virginia, is pending before the Supreme Court of Virginia.
"The Supreme Court of Virginia already decided that VADOC was wrong to freelance its own interpretation of the law by withholding earned sentence credits from one of our clients," said ACLU of Virginia Legal Director Eden Heilman. "VADOC should voluntarily release everyone who has earned sentence credits in accordance with the law rather than wait to be ordered by the highest court in the Commonwealth to do so again."
More details on the Supreme Court of Virginia's ruling that VADOC's interpretation of the law was incorrect and that it was wrong to withhold earned sentence credits from Mr. Steven Prease can be found here.