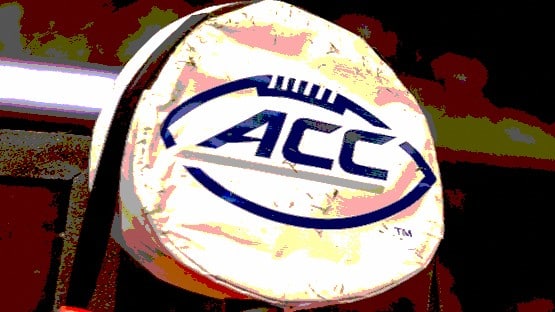 The ACC Network will be all over the map for Week 1 of the 2023 college football season next week.
The schedule features six games, and "ACC Huddle" road shows in four cities, beginning on Thursday, Aug. 31, with the Wake Forest-Elon game.
"ACC PM" will also be on location for the Wake-Elon game, as well as setting up in Blacksburg on Friday ahead of the ODU-Virginia Tech game on Saturday, Sept. 2, and then being on-site for the Clemson-Duke game on Monday, Sept. 4.
"ACC Huddle" will go solo ahead of the Florida State-LSU game on Sunday, Sept. 3.
One more special feature: an alternate broadcast for the Clemson-Duke game in prime time on Labor Day.
Kelsey Riggs will anchor the "ACC Huddle" road shows from all four game sites in Week 1, joined by all or some combination of ACCN analysts – Eric Mac Lain, EJ Manuel, Mark Richt and Eddie Royal. ACC Huddle on-site studio coverage will include pregame and postgame shows, as well as halftime and wraps segments.
Mark Packer and Taylor Tannebaum will also host weekday "ACC PM" shows from the three campus sites with live guests and discussions previewing the opening week of the ACC football season.
The weekend kicks off with Wake Forest hosting Elon (7 p.m.) on Thursday, Aug. 31. "ACC PM" (4 p.m.) and "ACC Huddle" (6 p.m. and 10 p.m.) will be live from Allegacy Federal Credit Union Stadium in Winston Salem, N.C. before kickoff and for a postgame wrap-up.
Play-by-play voice Drew Carter and Dustin Fox will call the Demon Deacons' matchup against the Phoenix.
On Friday, Packer and Tannebaum kick off two days of ACC Network coverage from Blacksburg with a three-hour "ACC PM," leading into Miami's home opener against Miami (Ohio) at 7 p.m.
The 6 p.m. hour will feature live reports from ESPN's David Hale, who will be covering the Hurricanes in South Florida.
Riggs and the "ACC Huddle" crew will host shows at 11 a.m., 6:30 p.m. and 11 p.m. (postgame) on Saturday from Virginia Tech's Lane Stadium.
That night, the new "ACC Primetime Football" crew makes its debut as the Hokies host Old Dominion (8 p.m.). Veteran ACC football voice Wes Durham joins Tim Hasselbeck in the booth, while Tannebaum is the new sideline reporter.
Coverage of the Seminoles' opener against LSU on Sept. 4 in Orlando will feature Riggs joined by Manuel, the former standout FSU quarterback, and Richt, who served as Florida State's QB coach/offensive coordinator for a decade under legendary head coach Bobby Bowden.
ACCN puts a bow on Week 1 in Durham, N.C. on Sept. 4 with a look back at all the weekend's games and plenty of pregame and postgame coverage of the marquee Labor Day primetime matchup between Clemson and Duke (8 p.m., ESPN).
"ACC PM" (4 p.m.) and "ACC Huddle" (7 and 11 p.m.) will be live from Wallace Wade Stadium for the conference clash, in addition to the Command Center presentation of the Tigers-Blue Devils game.