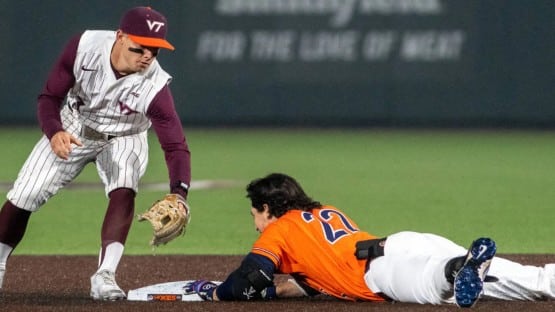 A second-inning three-run homer by Ethan O'Donnell put fifth-ranked Virginia up 6-0, and the 'Hoos coasted from there to a 9-5 win at Virginia Tech in the teams' series opener on Friday night.
UVA (24-2, 8-2 ACC) jumped on Hokies ace Drue Hackenburg (1-4, 6.51 ERA) in the first. Jake Gelof started the uprising with an RBI double, and Kyle Teel's sacrifice fly and an RBI single from Ethan Anderson pushed UVA's lead to 3-0 in the top of the first.
Gelof, who was 3-for-5 with three RBI on the night, extended the Virginia lead to 8-0 in the fourth with a two-run double that scored O'Ferrall and O'Donnell.
Gelof has a team-high 40 RBI on the season.
Righthander Brian Edgington (5-0, 1.64 ERA) delivered his team-best third quality start of the season. He pitched six innings, did not allow a run and struck out eight batters.
Virginia Tech (15-10, 2-8 ACC) pushed two unearned runs across in the sixth inning to get on the scoreboard. The Hokies closed the gap to four in the eighth with a three-run homer by Bordy Donay.
The middle game of the three-game series is set for Saturday at 7 p.m. in Blacksburg. UVA will have lefthander Connelly Early (6-0) on the mound, and he will be opposed by righthander Griffin Green (1-1).