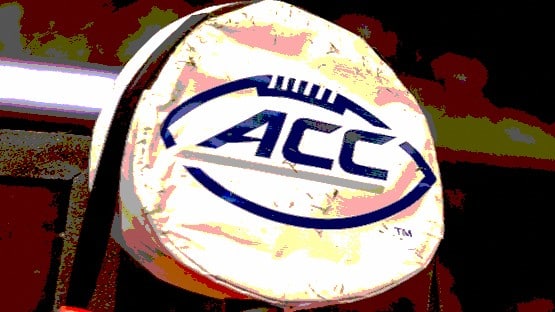 The ACC continued to make a statement of strength Saturday. Particularly against perceived big brother SEC.
In one of the big games over the weekend, Miami, despite following behind early, stormed back to crush SEC foe Texas A&M, 48-33.
The Miami win gave the ACC its fourth win over an SEC foe this season.
The Hurricanes capitalized on plenty of Aggie miscues, but still dominated most of the game. Miami sent a message that they will be a contender in the ACC and a spot in the CFP. Saturday, they looked the part.
Nearly every game in the ACC faced weather delays on Saturday's Week 2 slate.
UNC survived another scare from Appalachian State, winning in OT, while Clemson overcame a slow start to crush Charleston Southern.
In Raleigh, NC State kept it close with Notre Dame for three quarters, while the score was close the game never appeared in doubt for the Fighting Irish, who extended their ACC win streak to 10.
So, here's who moved up and down in this week's ACC Power Rankings.
Author's Note: The first two spots are how the suits at the ACC headquarters thought this would look 20 years ago.
FSU (2-0, 0-0 ACC) No hangover for Florida State after their opening game win over LSU. As expected, the Seminoles took care of business in a 66-13 blowout of Southern Miss.
Miami (2-0, 0-0 ACC) Is The U back? Still a bit early to say, but the Hurricanes looked good Saturday in beating Texas A&M. After a shaky start, especially in the punting game, the Hurricanes dominated the Aggies.
Duke (2-0, 1-0 ACC) The Blue Devils fell a spot, but only because of Miami's impressive win. Mike Elko's team cruised to an easy win over Lafayette. Forgive me for peaking ahead, but Duke is heading for a 4-0 start, after games against Northwestern and UConn.
UNC (2-0, 0-0 ACC) After a huge opening win over South Carolina, UNC was sluggish against Appalachian State.
Louisville (2-0, 1-0 ACC) Seems like hiring the right coach can pay immediate dividends. Jeff Brohm's Cardinals took care of business against FCS opponent Murray State on Thursday night. Louisville is looking at 4-0 as well, with games against Indiana and Boston College on deck.
Clemson (1-1, 0-1 ACC) The Tigers looked nothing like a national contender, or an ACC contender, for that matter. Another sluggish offensive start, but eventually Clemson blew out Charleston Southern.
Wake Forest (2-0, 0-0 ACC) The Demon Deacons took care of business against Vanderbilt Saturday, moving Wake to 2-0. Excellent scheduling by the Wake Forest AD should see Wake go 4-0, as the Deacons have games against Old Dominion and Georgia Tech up next.
NC State (1-1, 0-0 ACC) It was a one-score game heading into the fourth quarter against Notre Dame, but the Wolfpack had an offensive collapse in the final quarter to lose big to the Fighting Irish. Two weeks in a row the Wolfpack offense has shown little teeth.
Pittsburgh (1-1, 0-0 ACC) Pitt had a disappointing performance against Cincinnati Saturday. It was especially rough offensively for the Panthers behind quarterback Phil Jurkovec, who was a woeful 10-of-32 for 179 yards. Things don't get easy for Pitt, as they travel to West Virginia next week for a huge rivalry contest.
Syracuse (2-0, 0-0 ACC) Another easy win against an overmatched opponent. Saturday the Orange blew out Western Michigan, 48-7. After opening against Colgate, things get a bit tougher next week as Syracuse travels to Purdue.
Georgia Tech (1-1, 0-1 ACC) The Yellow Jackets picked up their first win of the year Saturday by beating South Carolina State, 48-13. GT totaled nearly 600 yards total offense. The competition gets tougher next as the Yellow Jackets travel to Ole Miss Saturday night.
Virginia Tech (1-1, 0-0 ACC) The Hokies battled a long weather delay Saturday. After falling behind Purdue 17-0, Tech came all the way back to tie the game at 17-all. Purdue, however, scored the final TD to take a 24-17 win. VT quarterback Grant Wells threw two interceptions, and the Hokie offense was ineffective.
Virginia (0-2, 0-0 ACC) UVA overcame an early 14-0 deficit to James Madison to take an 11-point lead on two occasions. But a poor fourth quarter doomed UVA, losing 36-35. The bright spot was the play of first-year quarterback Anthony Colandrea, who threw for 377 yards.
Boston College (1-1, 0-0 ACC) Despite winning, 31-28, over Holy Cross, the Eagles were anything but impressive Saturday. Following a loss to Northern Illinois, BC struggled all game against FCS Holy Cross.