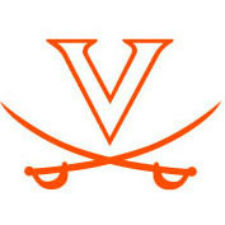 The top-ranked UVa. baseball team wrapped up its 2014 regular-season home schedule with a 12-3 victory over VCU Tuesday evening in front of 3,775 fans at Davenport Field. Virginia (42-9) finished the regular season with a 29-3 home record while drawing a program-record 115,340 fans, an average of 3,604 per game.
Virginia finished with 14 hits and batted around in the first and seventh innings. John La Prise (So., Exton, Pa.) went 3-for-4 with a pair of RBI while Joe McCarthy (So., Scranton, Pa.) and Mike Papi (Jr., Tunkhannock, Pa.) each were 2-for-4 with two RBI.
UVa starter Alec Bettinger (Fr., Woodbridge, Va.) pitched five solid innings to earn the win, giving up a run, six hits and no walks while striking out a pair. Bettinger improved to 6-0 in midweek action this year.
VCU starter Logan Kanuik (2-1) pitched two innings, allowing five earned runs, four hits and four walks with one strikeout in taking the loss for the Rams (33-16), whose six pitchers combined to walk nine batters.
Virginia batted around in the first inning, scoring four runs while taking advantage of Kanuik's control problems. Papi led off with a single, moved to second on a sacrifice and scored on a McCarthy single. With the bases loaded and two outs following a hit batsman and a walk, Nate Irving (Jr., Yonkers, N.Y.) walked to force in a run, and La Prise followed with a two-run double to left.
UVa added a run in the second inning as Papi drew a leadoff walk, stole second and scored on another McCarthy single.
VCU scored in the fourth off Bettinger. With one out Bill Cullen doubled to left-center, and he crossed the plate with two outs on a Trevor Marino single.
The Cavaliers got the run back in the sixth inning against reliever Matt Jamer. McCarthy coaxed a walk with one out. With McCarthy running, Jamer attempted to throw to first, but the ball sailed into foul territory, and McCarthy scampered to third. Kenny Towns (Jr., Burke, Va.) then cranked a double to left-center to score the run.
Virginia broke the game open with a five-run seventh inning while sending 10 batters to the plate. The first five batters reached safely. Irving hit a leadoff single, and La Prise drew a walk. Brandon Downes (Jr., South Plainfield, N.J.) ripped a single to center to score a run. Papi followed with a two-run double to right before Daniel Pinero (Fr., Toronto, Ontario) singled to center to bring in another run. The Cavaliers got the final run of the inning on a Derek Fisher (Jr., Rexmont, Pa.) RBI groundout.
UVa pushed its lead to 12-1 in the eighth inning when Pinero grounded out to score La Prise. VCU scored twice with two outs in the ninth inning on a two-run single by pinch hitter Alex Gransback.
UVa finishes the regular season Thursday through Saturday (May 15-17) with a three-game ACC series at Wake Forest. The postseason then begins as the ACC Baseball Championship runs May 20-25 in Greensboro, North Carolina.