Liberty shoots lights out in win at Presbyterian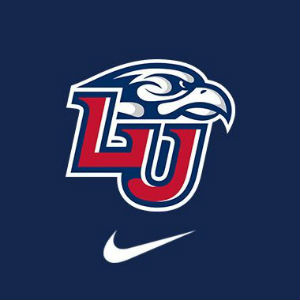 Liberty got back in the win column, completing the season sweep over Presbyterian with an 81-66 win over the Blue Hose, Saturday evening. Snapping its five-game losing streak, Liberty improves to 13-10 and 4-6 in the Big South.
"I was happy for our guys because we have been on the wrong end of the scoreboard for 12 days," head coach Ritchie McKay said. "We have learned a lot through this (losing streak) and it showed on both ends of the floor today."
Liberty shot 61.7 percent for the game (29-of-47), the team's highest shooting percentage for the Flames since Dec. 7, 2013 (62.2/28-of-45, vs. Greensboro College).
Of the 29 field goals Liberty made, 18 came off assists led by Georgie Pacheco-Ortiz with a game-high six assists. In his first career start, freshman Keegan McDowell delivered with a career-high 19 points and five rebounds. Fellow freshman, Elijah Cuffee, joined McDowell in the starting lineup and produced a solid stat line with 12 points, three assists, two rebounds and two steals.
Ryan Kemrite led Liberty with a season-high 21 points, shooting 6-of-9 from the floor, including 5-of-7 from three-point range. Kemrite, with 224 career three-pointers, is three makes from tying Larry Blair's school record of 227 career three-pointers.
"It is always great to get a win. The last 12 days have been tough but it shows the character of our group," Kemrite said. "We kept working day-after-day even things didn't seem to bounce our way. To come away with a total team win is good for us."
The Flames did a good job of crashing the offensive glass, grabbing two offensive rebounds in the first five minutes. As a result, Presbyterian (9-14, 2-8 BSC) was limited to just three shot attempts in the first five minutes of play, which all resulted in misses. While Liberty's defense was sharp, its offense was solid, making five of its first 10 shots to jump out to a 15-2 lead.
The Flames continued their stellar defense through the first half as the Blue Hose were held to just two points until the 9:24 mark in the first half. During a nine-minute stretch, the Flames went on a 19-3 run to take a 23-5 lead late into the first half.
Liberty's bench provided nine points in the first half as every bench player (Myo Baxter-Bell, Caleb Homesley and Ezra Talbert) that received minutes scored, led by Homesley with six points including four rebounds and two assists. While Liberty's bench contributed on offense, its defense did not allow the Blue Hose's bench to score a point in the first half.
"I think we are improving and learning to adjust with the different personnel groups we have," McKay added. "I think Ryan's (Kemrite) leadership showed and propelled us early in the game and I loved our freshmen tonight. They were really composed."
The Flames went into the break with a 35-20 lead after limiting PC to 29.6 percent from the field (8-of-27) while shooting 57.7 percent (15-of-26) led by McDowell with 10 points. Liberty controlled the paint in the first half, outscoring the Blue Hose, 18-6. All eight Liberty players that received playing time in the first half scored.
Once again, the Flames got off to a solid start on offense in the second half, making six of their first 10 field goals. The Flames' defense was able to hold Presbyterian scoreless for the first four minutes of the second half as they held their biggest lead (57-37) with 10:30 left in the game. Liberty continued to roll on offense, making eight of nine field goals late in the game to hold its double-digit lead (70-51).
Presbyterian's Reggie Dillard would get hot in the second half with 26 points, shooting 8-of-12 from the field and 6-of-9 from three. Despite Dillard's success on offense, Liberty kept up the pace on offense, shooting 66.7 percent in the second half (14-of-21) as Kemrite scored 18 of his 21 points in the final 20 minutes of the game.
The Flames will return home next week to face Winthrop. Tipoff is set for 7 p.m. on Thursday, Feb. 1, at the Vines Center.