Pepe Coin is one of the largest gainers of the year, igniting the meme coin craze back in May with an astonishing 9000% gain. 
The rise gave birth to a meme coin mania, flooding the market with hundreds of meme tokens each day. 
However, Pepe Coin has seen a decline in the last month a 23% price drop. This drop rge has left some investors speculating whether $PEPE can ever reach its all-time high (ATH) again. 
On the contrary, many analysts seem to believe that this rally may be fleeting and are directing investors to shift their focus onto a new meme coin, Wall Street Memes ($WSM), that just amassed $24 Million in its presale.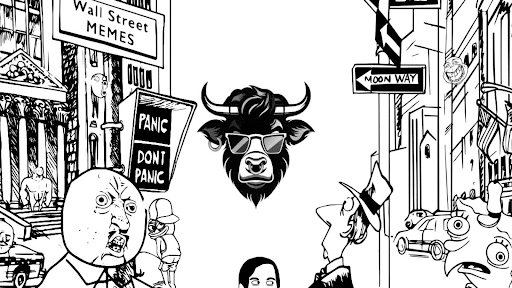 Will $PEPE Reach its ATH Again or Should You Focus on $WSM Presale Instead?
Pepe Coin reached its all-time high (ATH) of $0.00000431 on May 5th, but since then, it's been a wild ride. 
Currently, $PEPE is down 70% from its ATH, with the price now sitting at $0.00000127. At the time writing, the coin is down by 23% over the last 30 days.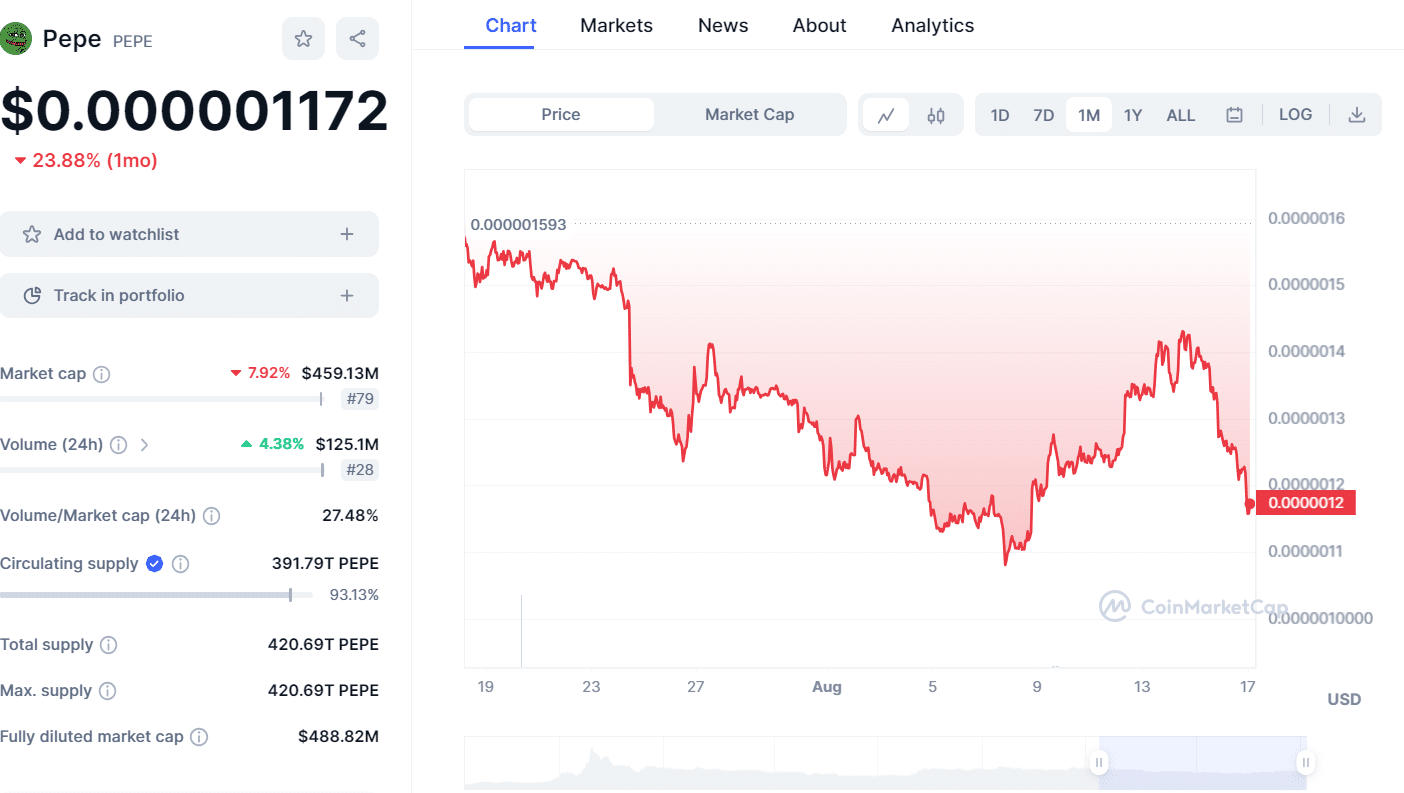 The past few weeks  have seen some intriguing activities, with whales buying PEPE, contributing significantly to its rally. 
However, this has been counterbalanced by some substantial sales, including one whale offloading 2.26 trillion PEPE at a loss on August 7.
The oscillating nature of $PEPE might leave some to ponder its future potential. While the recent uptick is encouraging, there's a looming concern that the coin could revert to its all-time low (ATL) of $0.000000055142 seen on April 18th.
On the other side, the buzz around the Wall Street Memes presale, which just reached $24 million, indicates a promising path for the new meme coin. 
The data and trends surrounding $PEPE suggest that focusing on the potential of $WSM might be a wiser investment strategy in the long run.
Wall Street Memes Ramps Through the $22M Mark – Presale Set to Sell Out Very Soon
The Wall Street Memes presale is creating an unprecedented frenzy in the crypto world. Launched on May 26, 2023, this presale quickly raised $800K in the opening few days. Created by the ingenious minds behind the 2021 NFT project, Wall St Bulls, $WSM is now on a path that seems unstoppable.
With a hard cap set at $30,577,000 and a minimum investment of 100 $WSM, investors have shown immense faith by contributing $22,596,633.79 so far. 
The excitement is palpable as the current price for 1 $WSM is at $0.0331, with the next stage price rising to $0.0334. The investment window is open for anyone, with no cap on the maximum investment.
As the momentum builds and the hard cap looms closer, a sense of FOMO is gripping the market.
If you're considering jumping onto the Wall Street Memes bandwagon, now is the time. The presale is predicted to sell out very soon, and missing this opportunity might mean losing a chance to be part of what could be the next big thing in the crypto space. 
Don't let the train leave without you – the Wall Street Memes presale is waiting for you to make your mark!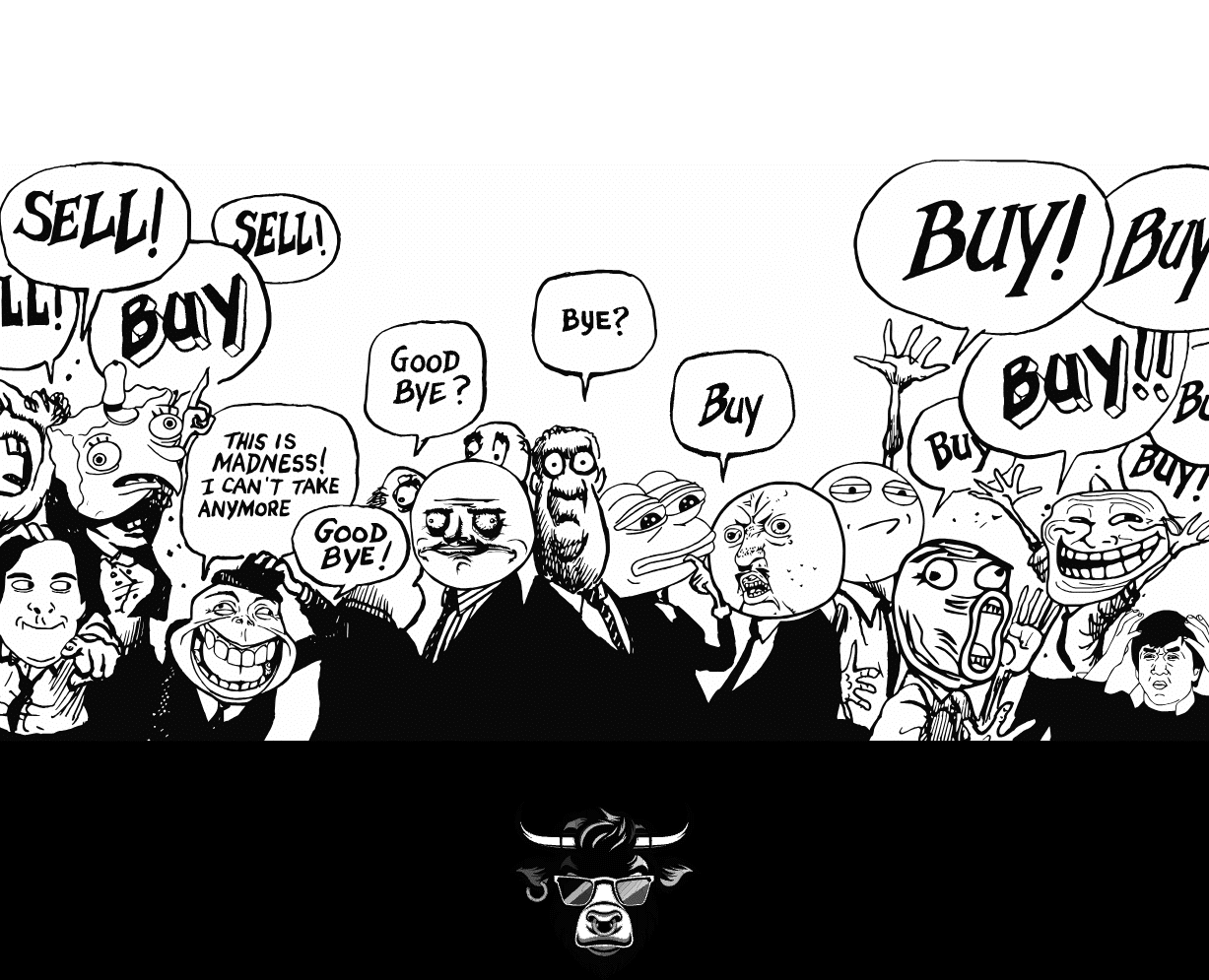 $WSM Rewards Early Supporters with a $50K Airdrop – Here's How You Can Win
The Wall Street Memes presale excitement is intensifying, and the project is now offering an exhilarating $50K airdrop to reward the community. 
This isn't just another giveaway; it's a symbol of community engagement and empowerment, aligning perfectly with the Wall Street Memes' mission.
A total of $50,000 worth of $WSM tokens are up for grabs, split between five fortunate participants. And you could be one of them! Here's how you can enter:
Follow Wall Street Memes on Twitter
Follow Wall Street Memes on Instagram
The team's dedication to its community is paramount, ensuring 100% of the $WSM supply goes to the Wall Street Memes community in various ways. 
They've retained no $WSM tokens for themselves, allocating 30% of the total token supply for community rewards.
But act fast, as the presale is in Stage 28 out of 30, and your chance of winning the prize will be gone soon.
Even Elon Musk Supports the $WSM Platform
The Wall Street Memes presale has garnered support from none other than tech magnate and crypto enthusiast Elon Musk. 
Musk's responses to tweets from the Wall Street Memes Twitter account have not only hinted at his awareness of the brand but have also significantly boosted the buzz around $WSM. 
Known for his influential tweets that have swayed the fortunes of other meme coins, Musk's interactions add a layer of excitement and credibility to the project. 
With an ambitious roadmap that includes reaching a market cap of $1 billion, strategic partnerships, Tier-1 CEX listings, and exclusive offerings for $WSM holders, Wall Street Memes is poised to rival established meme coins, with a little nudge from Musk's magic touch.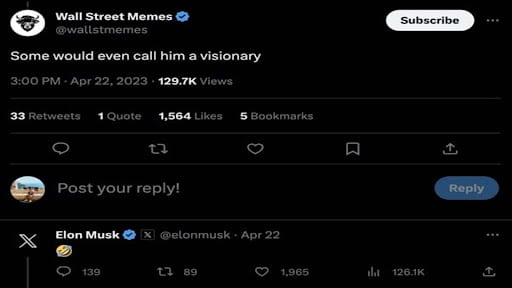 Conclusion
The roller-coaster journey of $PEPE has left many investors wary and searching for alternatives. With its fluctuating value and recent whale activities, the future of $PEPE appears uncertain, and the risk of it reaching its all-time low is tangible. 
Contrastingly, $WSM has emerged as a powerful contender in the meme coin arena. With robust backing, a community-centered approach, and even a nod from Elon Musk, $WSM is set on a trajectory that promises not only growth but sustainability. 
For investors looking to ride the next big wave in the crypto world, Wall Street Memes offers a more promising and secure avenue. 
Now is the time to seize the opportunity and invest in what could become the next standout star of the crypto universe.