It is the first full slate of college football betting, Labor Day weekend. Let's delve into the top three bets for the party.
NCAA Week 1 Betting Picks: Three Expert Best Bets
Here's our College Football betting expert's top three NCAA Week 1 betting picks. You can click below to place the three best bets, or scroll down bellow to see the reasoning behind them.
Best NCAA College Football Betting Sites
Already signed up to these bookmakers? Check out our comprehensive list of the best offshore sportsbooks.
NCAA Week 1 Betting Pick 1: Penn State -3.5 @ -104 With Bovada
Market report: This game opened at -3.5 and 54.5. There is a sizeable divergence in the betting splits with 62 percent of bets on the road favorite, but 67 percent of cash on the home underdog.
Most handicappers assert this denotes a sharp bet on Purdue.
Betting preview: This is a textbook case of a team that overachieved last season (Purdue) against a squad that underperformed (Penn State).
In more than three decades of betting and professional handicapping, I've discovered overachieving teams are overvalued early the next season in both college football and basketball, while of course underachieving squads become undervalued.
The Nittany Lions have a year under the belt under the system of offensive coordinator Mike Yurcich. I expect a sizable improvement on that side of the ball.
True, Purdue does have an edge in returning starters 16-10, but regression to the mean has Penn State the much more talented team.
The favorite was 9-2 in Penn State's contests meaning the better team generally covers their games. The oddsmakers make it clear PSU is the superior squad.
I have no issues laying the hook with lower juice rather than getting -3 at a higher price.
NCAA Week 1 Betting Pick 2: Georgia -17 @ -118 With Bovada
Saturday, September 3.
Oregon vs. Georgia (-17, 53)
Market report: This game opened at -17.5 and 50.5. The half-point line move is noteworthy as 17 is a key number and every pro bettor knows the value of a half-point is significant.
The public adores the underdog here with 65 percent of bets and 77 percent of the money on the Ducks.
Betting preview: Georgia is fresh off winning their second national championship, so understandably the masses believe the Bulldogs could be overvalued.
The Dogs lost substantial talent to the NFL draft on defense and has only three returning starters on that side of the line of scrimmage. However, head coach Kirby Smart has had a long stretch of top recruiting classes, so they are the classic "reload, not rebuild" squad and defensive unit.
Bo Nix makes too many mistakes at quarterback for Oregon to hang with a UGA defense that capitalizes on blunders.
This is listed as a neutral game, but it is at Mercedes-Benz Stadium in Atlanta, a definite home state edge for Georgia. Oregon is traveling 2,176 miles, while Georgia a mere 61.

Contrarian bettors know that public underdogs are a great fade bet. Despite losing enormous talent, UGA is still stacked with top-line talent and will have a partisan crowd fired up off winning the natty.
College Football Week 1 Betting Pick: Georgia -17 at Bovada.
NCAA Week 1 Betting Pick 3: Notre Dame +17 @ -110 With Bovada
Market report: This game opened at -14.5 and 58. Though 56 percent of tickets are on the Irish, 68 percent of the handle is on Ohio State.
Gurus who analyze betting splits overwhelming believe this implies a sharp bet on the Buckeyes.
Betting preview: This is an extremely rare case of such a highly ranked squad getting so many points. In the history of my database, which goes back to 1995, top 5 ranked teams getting 17 or more points are 30-16 ATS, including 30-14 last 44.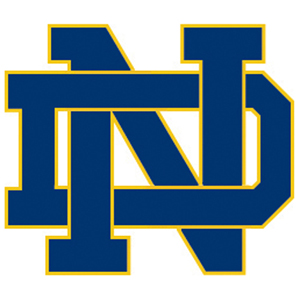 This despite being just 5-41 ATS, yet again dispelling the square betting myth to only bet an underdog if you believe they are likely to win outright.
Ohio State alumni Marcus Freeman makes his debut as head coach for the Irish. This gives Notre Dame the element of surprise as Ohio State has little film or intel to prepare.
With stud tight end Michael Mayer, Notre Dame should do a solid job of keeping the ball away from Ohio State. The Buckeyes offense is possibly the most talented in the country, but the defense is suspect.
Notre Dame has 15 starters returning. From a motivation standpoint, it is much more important for the Irish to stay competitive than Ohio State to make a statement blowout.
College Football Week 1 Betting Pick: Notre Dame +17 at Bovada