As you may know, Ethereum is the most popular and loved crypto on the market and the 2nd largest digital currency by market cap. However, the hugely popular investment option has been losing ground in the past month without showing any signs of stopping. Compared to last year, ETH is down by 11%, but that number will surely increase as the year comes to an end.
Current market trends are forcing investors outside their comfort zone, as many established cryptos entered a period of extreme volatility. That's why many of them choose to invest in emerging cryptos with high gain potential. Bitcoin BSC is their top choice in September, taking the "Most Loved" crypto title away from Ethereum.
Ethereum Facing Significant Challenges
Ethereum's price has been going up and down in the past few months before entering a downward trend. After multiple rebounds and attempts to drive ETH prices higher, holders are now watching their investments disappear as the token hit a low price of  $1560. The trading volume exploded, but the crypto is down by over 4% in the past mont. 
The fear of investing in ETH, BTC, and many other cryptos is growing, pushing thousands of investors to get rid of their tokens and forcing the token's prices even further down. However, if the situation turns around and the number of buyers increases, ETH prices could turn around and enter a bullish phase.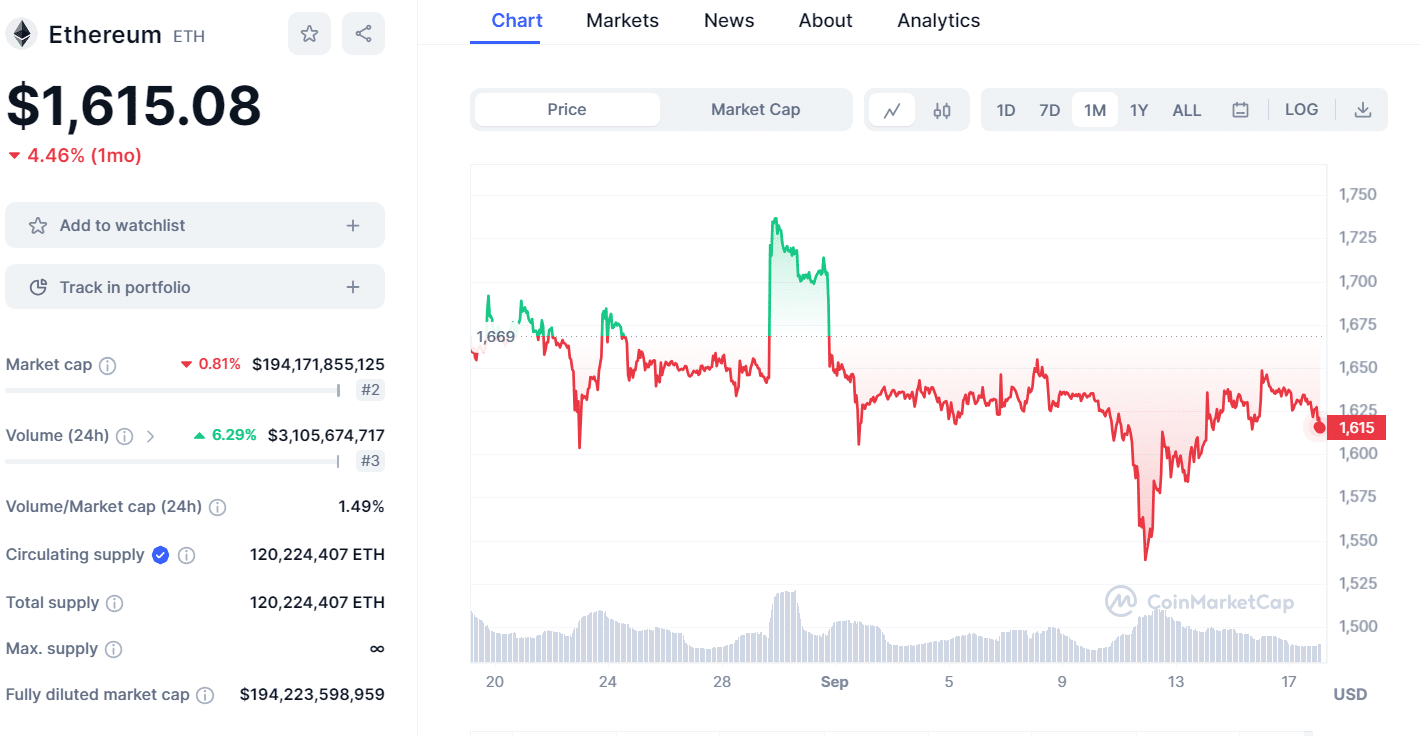 On-Chain Activity Dwindling 
The overall activity on the Ethereum blockchain has been decreasing throughout the summer. According to the latest data, the number of transactions has hit a new low this year, along with transaction fees reaching the lowest point in the past eight months.
However, the sudden drop in value has activated token holders, as thousands of them want to get rid of Ethereum. The trading volume is up by over 171% in the past 24 hours, and if the trend continues, even more holders are expected to dump their tokens and move their investments to other cryptocurrencies.
Everyone expected that Ethereum's Merge would help the platform recover, but after a few months of steady growth, the platform is losing value once again. Investors seem to be losing interest in Ethereum as the large-scale selloff continues, especially among crypto whales known to influence crypto markets. 
Moreover, the platform's creator, Vitalik Buterin, has also been moving large amounts of Ethereum from his public wallets to other wallets. Over $6 million worth of ETH tokens have been transferred, raising a red flag among the most active crypto investors. Therefore, Ethereum's future is very uncertain, and if things don't turn around soon, ETH could keep dropping for another few months. That said, some investors expect a price rally soon, but only if the platform manages to deal with the many challenges. If ETH doesn't break the critical resistance level, it could keep spiraling down, resulting in huge losses for all token holders. 
Bitcoin BSC as A Reliable Alternative to Ethereum
Bitcoin BSC is an emerging cryptocurrency staking platform that entered presale in early September 2023. It's inspired by the original Bitcoin, featuring the same amount of coins and token allocation but with one significant difference. Instead of using the Proof-of-Work mechanism to reward holders with more tokens, the platform uses the Proof-of-Stake mechanism that will give out tokens to users over the next 120 years.
The platform is built on the BNB Smart Chain, so it has some huge advantages compared to many other cryptocurrencies. For example, it's got the same code as Ethereum, which means it offers excellent security and smart contract capabilities. BNB Smart Chain offers lower gas fees and is faster than Ethereum. Moreover, $BTCBSC tokens are BEP-20 tokens, so they can quickly be accessed and transferred to regular wallets, including Trust and MetaMask.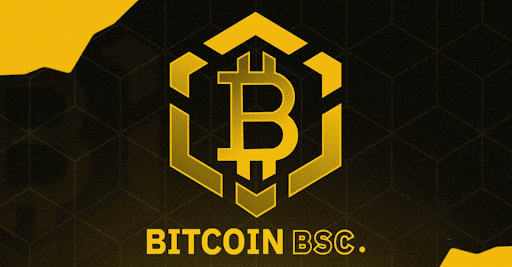 Bitcoin BSC Tokenomics and Features
Bitcoin BSC will have 21 million tokens, like the platform that inspires it. The tokens will be available in presale for $0.99, just like Bitcoin was back in 2011. Only 6.125 million tokens will be available in presale, while the remaining 14.875 will stay locked and given out through rewards over the next 120 years.
Giving the users the ability to stake their tokens allows them to set up a passive income channel. Staking rewards depend on the amount of tokens you stake. In other words, the more you stake, the higher your rewards. However, if the number of stakes increases, your APY will decrease. The mechanism is implemented to motivate users to hold on to their tokens to participate in the reward system. As time goes by, the number of Bitcoin BSC in circulation will increase, resulting in a vibrant ecosystem with a stable future and plenty of room for growth. 
Bitcoin BSC Token Presale
The official Bitcoin BSC $BTCBSC token presale is now open, allowing you to get tokens at only $0,99 per piece. The platform is halfway to reaching the soft cap of $3.96 million, days after going live. This shows that the excitement around Bitcoin BSC is growing by the second, so hurry up and get your $BTCBSC tokens and become an early investor to get the highest returns down the road.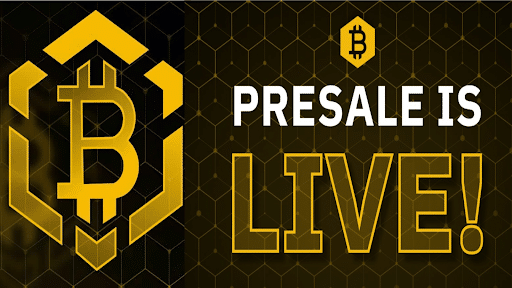 Wrapping Up
Ethereum has been on a wild ride in the past two years, and despite doing everything possible, the network is once again struggling to stay afloat after having stable gains for months. Sadly, ETH tokens will not result in significant gains in 2023 and could even lose value moving forward.
However, the newest BNB Smart Contract version of Bitcoin, Bitcoin BSC, is gaining momentum among investors and could explode by the end of the year. So, don't miss your chance to invest while the price of $BTCBSC is just $0.99 to get the highest gains in the future.