Exchange-traded funds (ETF) have been hot on the streets now for quite some time. Until now it has mostly been Bitcoin related but ARK and 21Shares have now filed to the SEC for an ETF that would hold Ethereum (ETH). The move on a macro level is great for the crypto market but we are still waiting to see how it affects the price of ETH which is still slightly down over the last week.
When BlackRock filed its ETF it broke the dam and signified that Wall Street was ready to move into the crypto market or specifically the spot Bitcoin ETF market. Bloomberg analyst James Seyffart believes this now could start a similar run on Ethereum ETFs that could last all the way until May of next year.
The Spot #Ethereum ETF Race is officially on. It's early but i'd estimate a final deadline on these applications to be around ~May 23, 2024.

Notably, we didn't see a VanEck spot Ethereum ETF S-1 from VanEck earlier because they filed for this thing all the way back in 2021!! pic.twitter.com/jLve8PpPrE

— James Seyffart (@JSeyff) September 6, 2023
As we mentioned, this should have reflected positively in the market but we are not seeing enough movement yet in the price of ETH. This means investors would be better served looking for an alternative. As the market is still bearish, presales are where to start the search and one new project that stood out is Bitcoin BSC (BTCBSC).
Let's take a look at why it's a better alternative to ETH at the moment. 
Bitcoin BSC- One of the hottest presales on the market 
One of the trends that investors should be keeping an eye out on at the moment is so-called 'imitation coins'. The idea behind these projects is pretty simple but very clever. They take a coin that has sustained success and every investor knows but they apply their own touches to it. They basically get to use years of market data to try to improve on already great tokens.
Bitcoin-inspired coins are of course the most popular choice as it is crypto's number one coin. Bitcoin BSC (BTCBSC) is the latest in this model and looks like it has the potential to be the best one yet. Its presale only kicked off a matter of days ago but it has already raised over $1.2 million and with a hard cap of just below $4 million it could sell out very fast.
One of the reasons you will want to get involved during the presale is that Bitcoin BSC is a proof-of-stake coin and staking will be a big part of their project. This has been a successful trend lately with new projects and BTCBSC getting on board with it is very positive.
Another Bitcoin-inspired coin BTC20 had great success with staking during their presale. Around ⅔ of their investors staked their coins and this caused the price to pump once it was listed. Already with Bitcoin BSC, investors can start staking and over 127,00 already have.
There is another huge benefit to this presale coin that not only makes it a good Ethereum alternative but also a good Bitcoin one. Bitcoin has come under a lot of criticism because of how much energy it takes to mine it and it could be possible this environmentally negligent process harms it in the future. Bitcoin BCS does not require any mining and therefore is likely better set up for the future.
We mentioned at the start of this how clever the idea of 'inspiration coins' is. One of the best things about them is they are obviously inspired by coins that have been successful like Bitcoin but because of their low market cap, their prices are much cheaper. Bitcoin BSC is evoking nostalgia and FOMO in investors by only charging $0.99 per token just like the price of Bitcoin in 2011 before it took off.
Last but not least it is what sets Bitcoin BSc out from the crowd and makes it the best alternative. Bitcoin BSC is built on the Binance Smart Chain. This chain shares a code with Ethereum so you don't sacrifice anything when it comes to security or smart contract capabilities.
However, the stand-out feature is lower gas fees than any rival Bitcoin-inspired token. This not only means cheaper transactions but also much faster ones too. It is this and the above reason that really sets it out as the best alternative on the market at the moment.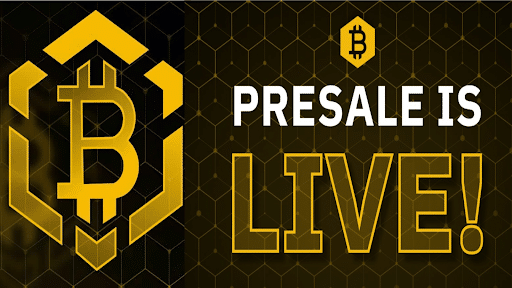 Will Ethereum price recover after ETF news? 
Below is the 7-day price movement of Ethereum (ETH). From starting writing this piece until now ETH has actually taken that big price plummet seen at the end of the graph. This clearly shows that the ETF news has not been enough to help Ethereum climb out of the hole that has been dug due to the bearish conditions seen over the last couple of weeks.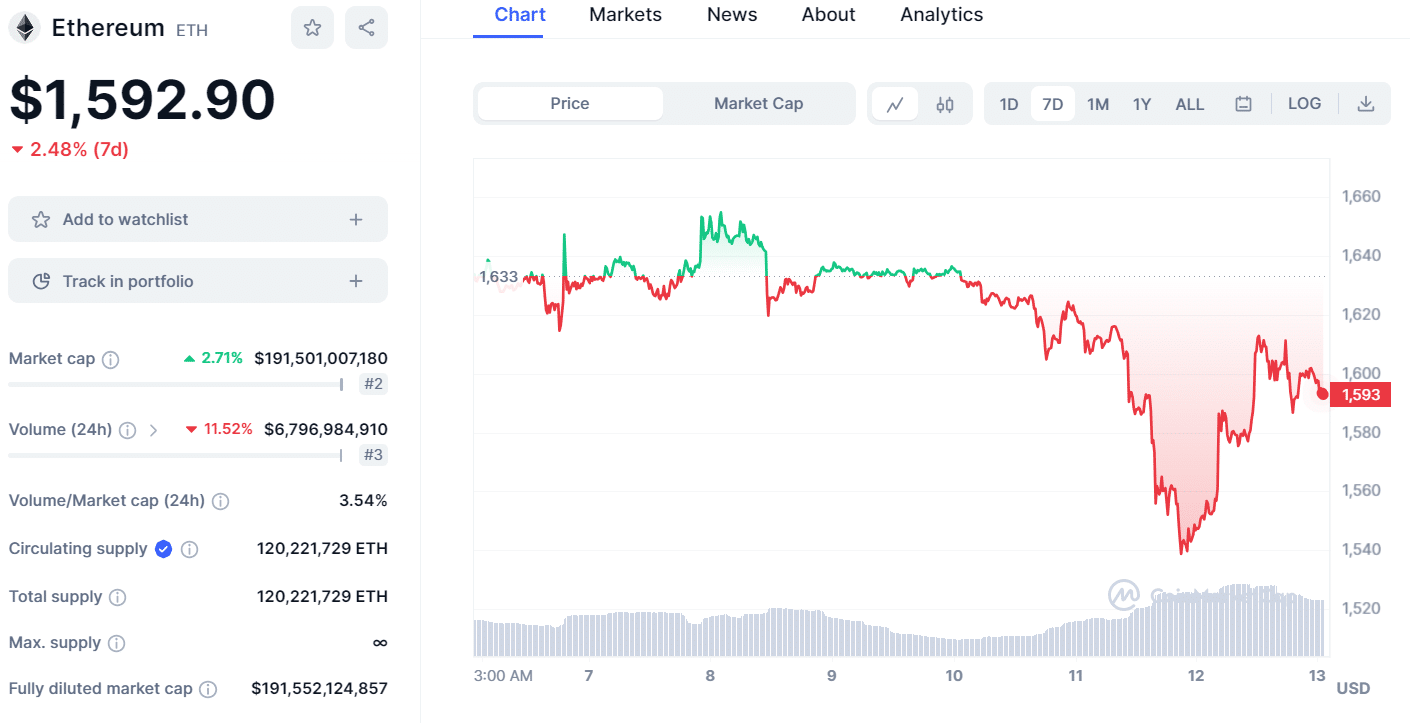 It is difficult to make a price prediction due to so many moving factors at the moment. More ETF filings will likely come after ARK and 21Shares but if they didn't have the desired effect will any new ones? It remains to be seen. 
Conclusion
So to finish up, the ETF news is likely going to be good for Ethereum in the long term but now it doesn't seem to have moved the needle enough. It is better to look for alternatives and there doesn't seem to be any better than Bitcoin BSC. The presale may just have kicked off but it has the properties necessary to be a big player in the future.