The cryptocurrency market has been flooded with countless new coins in the last few years. Several altcoins have tried to challenge the supremacy of Bitcoin. However, the king of cryptocurrency continues to reign supremacy among crypto enthusiasts. According to the numbers presented by AugustaFreePress.com here, 75% of US crypto owners have Bitcoin in their portfolio.
40% of US crypto owners have Dogecoin in their portfolio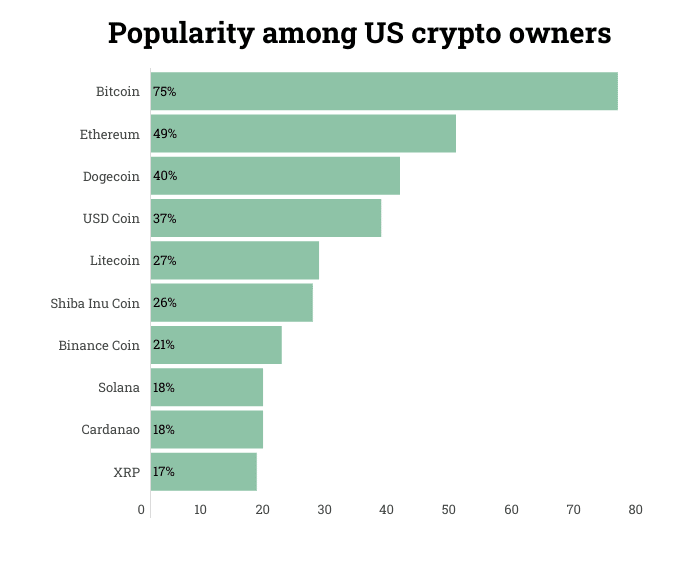 According to a recent Morning Consult survey, Bitcoin is a part of the portfolios of every three of four crypto holders in the United States. The survey was conducted among 830 cryptocurrency owners in the US during June. 
Expectedly, Ethereum is the second-most favorite coin of US crypto enthusiasts. 49% of US crypto owners have Ethereum in their portfolio. The share of Ethereum is considerably less than that of Bitcoin, but it is undoubtedly the most popular altcoin in the United States.
Dogecoin is the third-most-popular coin in the United States, with 40% of crypto owners possessing the currency. Dogecoin divides opinion in the cryptocurrency community as it has been branded as a meme coin, and a section of the community considers it detrimental to the entire crypto market. Regardless, it continues to be one of the most popular cryptocurrencies in the US.
Stablecoin USD coin is fourth-most popular in the US, with 37% of crypto owners in possession of the coin. The USD coin was initially released in September 2018, and in a short span of time, it has become the most popular stable coin in the US crypto market.
Litecoin is fifth-most popular in the United States. It is one of the earliest altcoins and still holds popularity in the US crypto community. 27% of US Crypto owners have Litecoin in their portfolio. Shiba Inu coin is another contender for the 'meme coin' tag. However, it is also quite popular in the United States, and it finds itself in possession of 26% of US crypto owners.
The top ten list is completed by Binance Coin (21%), Solana (18%), Cardano (18%), and Ripple (17%). The survey also states that USD Coin and Solana have witnessed maximum share growth since the start of the year.