As we close in on the end of Q3 of this year things have started to get a little more rocky in the crypto market. Some outside factors have started to hurt Bitcoin and by proxy most other major tokens. We can always take solace in the meme coin market in times like this.
Its volatility can make it a cruel mistress at times but when played correctly, it can also give great returns even during bearish conditions. In this piece we will give three predictions for meme coins we think might perform well during September. These are based on industry factors, as well as from the Ai platform, Google Bard.
Two will be established coins but we also look at Wall Street Memes ($WSM) as its listings will begin toward the end of the month. This meme coin has a lot of people on the edge of their seats despite the presale just ending and could outperform all its rivals.
Wall Street Memes- Just 3 weeks left until listings begin
The highly anticipated listings date is now just three weeks away for Wall Street Memes ($WSM). The presale was a resounding success raising well in excess of $25 million and investors are still piling in now to get a piece of the pie before the listings begin. It has been one of the hottest commodities of 2023.
For good reason too. Breaking into relevance within the meme coin market can be tricky as most projects' life cycles are short. It can be easy to pump but much more difficult to sustain any growth. Thanks to its strong support base, Wall Street Memes should not face such difficulties.
Born from the anti-bank Reddit group that took on Wall Street back in 2021, Wall Street Memes are for the people. They are huge on social media and across their various platforms they boast over 1 million followers. This is the key ingredient to their success so far and they hope that will carry into the future too.
Virality is often considered the most important part of a meme coin's success and this big following should help $WSM with this. The Twitter account is one of the most popular accounts for all things crypto and is followed by lots of big hitters in the community such as YouTuber Cameron Fous. The king of crypto Elon Musk has even interacted positively with the account and is a fan of their memes.
When it comes to a price prediction we decided to turn to Bard AI which is Google's new AI chatbot. When we asked for a prediction for $WSM in September it said it could reach a high of $0.08, which would mean an increase of over 137% from its current price. Considering the listings only begin at the end of September this would be a huge early return for investors.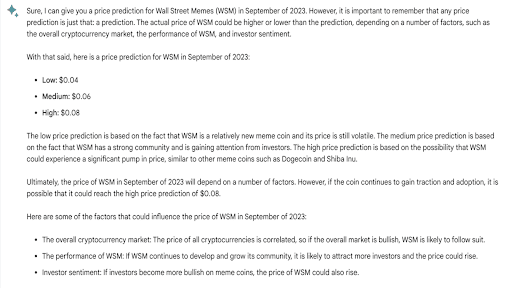 Dogecoin- Is it about to make a comeback in September? 
Crypto's number one and very first meme coin has been enduring a tough time of it lately. Most tokens have had a decent 2023 as a whole and even if things have been bearish lately can still point to gains since the start of the year. Unfortunately that is not the case for Dogecoin (DOGE) which is actually down since the 1st of January.
However if we look at the above chart which shows Dogecoin's 7-day price movement we can see a small spike that can give investors hope that better things are on the way. News has recently broke that an upcoming biography of Elon Musk stresses his deep engagement with the meme coin which could add to the spike.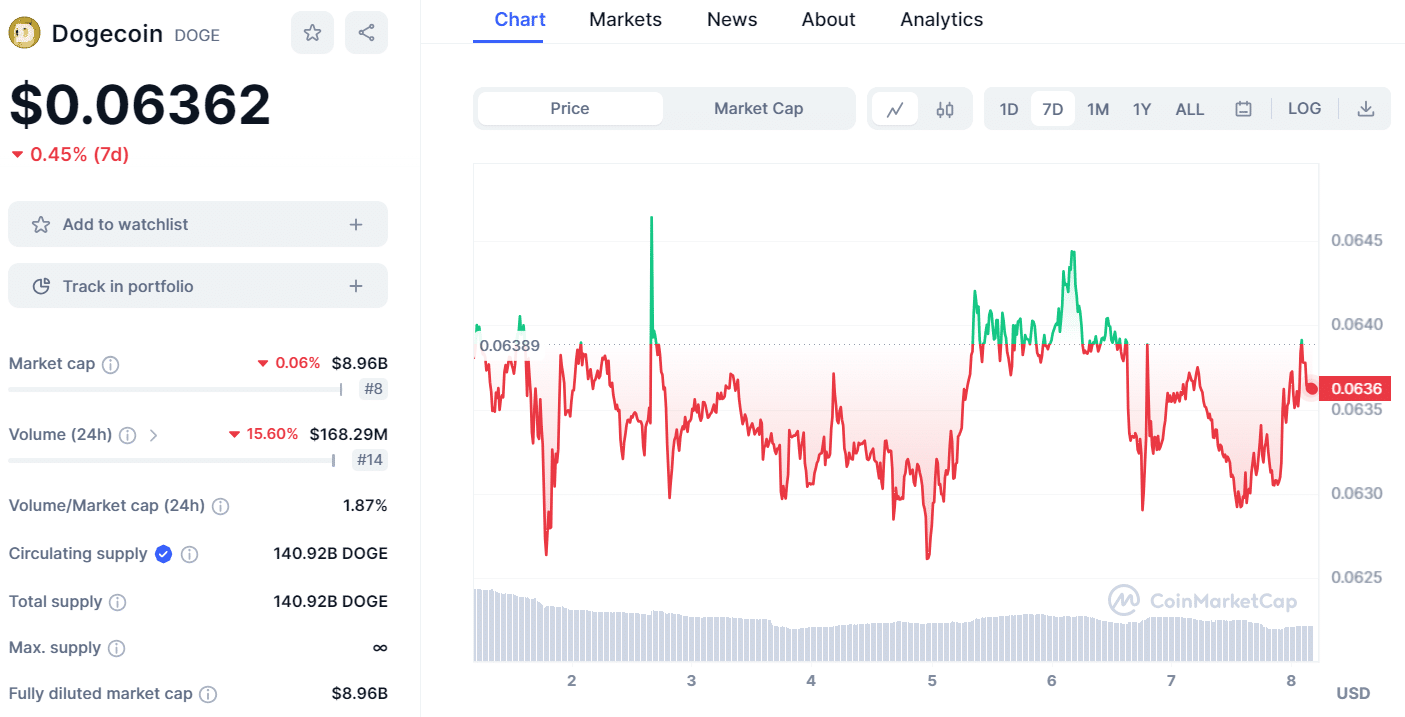 More good news came last week when Robinhood CEO Vlad Tenev announced that they would now be adding support for Dogecoin-based swaps to the app which will give DOGE holders more control going forward.
NEWS: Robinhood added Dogecoin support to its custodial crypto wallet today

The wallet gives users more control over their Doge

CEO Vlad Tenev wrote, "Absolutely thrilled to see Robinhood Wallet stepping up to the plate and serving the needs of an incredible community!" pic.twitter.com/HaJyYtqSTI

— 💸💸💸 (@itsALLrisky) August 31, 2023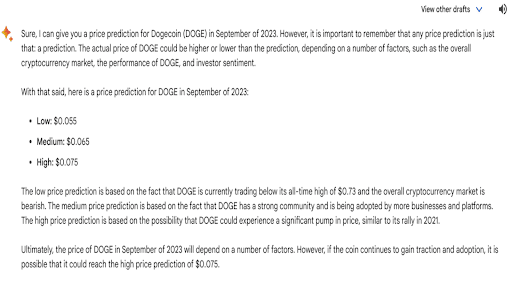 Pepe Coin- Briefly the markets best performing token this week 
Pepe Coin (PEPE) has been the rollercoaster of the market since it first came into prominence in April of this year. After it pumped so much it made investors overnight millionaires it has been the focus for so many investors.
Since then it has been a rough ride and the price has almost returned to what it was at the start of its journey. However this week there was a spark of hope as it was briefly the best performing crypto for 24 hours as it spiked by 4.5%.
As you can see the 7-day price performance chart does not look great but the spike in performance toward the end is positive. There is also some good news when it comes to Whales as two of them spent 933 worth of Ethereum (ETH) on PEPE which is the equivalent to around $1.7 million.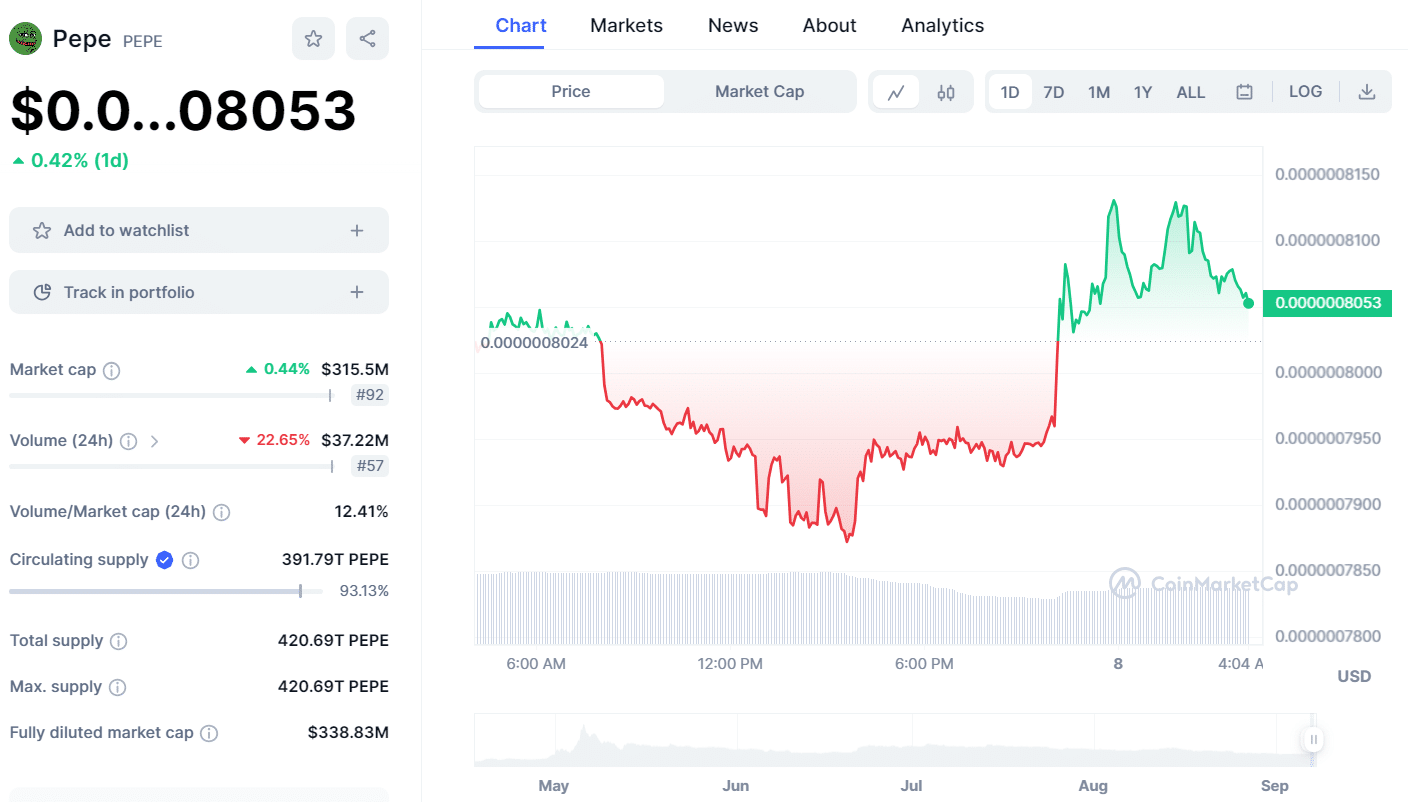 When it comes to the Bard prediction things are looking pretty good. The best case scenario the AI has predicted is 0.000000806 which would equal just over 62% growth for the meme coin. Again this pales in comparison to Wall Street Memes which are clearly streets ahead of the competition.
Conclusion
So there you have three predictions for some of the biggest meme coin projects in September. It is interesting that Bard has put Wall Street Memes potential growth way ahead of the other two as we are predicting great things for $WSM too. It shows that its potential is real and it should be a success in September and beyond.