Best Soccer Odds in 2023 – Compare the Latest Soccer Lines & Odds
Soccer is a global sport and commands a huge portion of any online bookmaker. To make money from soccer, you need to understand how soccer odds work and how to then find value from these lines.
In this article, we're going to be looking at how to read soccer odds and talk more about the different markets you can bet on within the sport. We'll wrap it up with the best sportsbooks for soccer odds, allowing you to get the best possible prices on a more consistent basis.
Comparing 2022 World Cup Soccer Odds
The World Cup is the pinnacle of the sport and below we've included a table with the latest World Cup soccer odds. Use this table to discover the odds that the best offshore online sportsbooks are offering right now and see how the same pick can fluctuate from site to site.
Explore Our Sportsbook Reviews
How Soccer Odds Work
In this section, we're going to deep-dive into how soccer odds work. For the most part, they are simple to understand, but if you're new to the sport, then this will allow you to see how soccer lines are created and then how they might change.
Soccer Odds Explained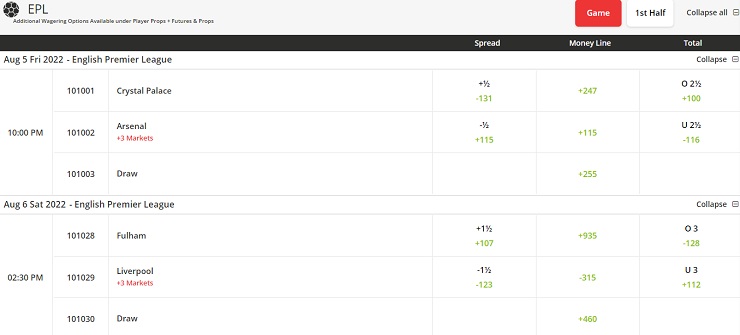 Sportsbooks create soccer odds based on probabilities. The more likely a result is to happen, the shorter the odds will be. Odds are essentially just mathematical equations that cover all possibilities.
For example, if you were to flip a coin, there are only two possible outcomes which is heads or tails. It's a straight 50/50 chance for which one lands, which means the true odds would be +100, or even money, as it's often referred to.
This same principle is applied to a soccer game. The sportsbooks determine which team is more likely to win the game (assuming betting on the result) and then create the soccer lines accordingly. They use implied probability (the percentage chance of that result coming in) and then convert that to soccer odds.
It's worth noting that match results will have three outcomes with most soccer games that include home win, away win, and a draw.
Let's assume that Team A has a 50% chance of winning, Team B has a 20% chance of winning and the remamining 30% is a draw. The odds would look like this:
Team A = 50% = +100
Team B = 20% = +400
Draw = 30% = +233
How to Read Soccer Lines
Most odds on the best sportsbooks in the US will be represented as "American" style. This means that the odds come with a plus or minus before the number. Other formats include fractional and decimal, which are more common in other parts of the world.
With American soccer lines, the positive number highlights the amount of money you win should you place a $100 bet. The negative number is the amount of money you need to wager to make a $100 profit.
Most soccer lines will have one negative and two positive outcomes for the match result market. It might look something like this:
Austin FC to win @ -113
Houston Dynamo to win @ +320
Draw @ +320
To make things simple, let's assume that we wager $100 on each result to get the following payouts:
Austin FC to win @ -113 = $100 to win $88.50 (profit)
Houston Dynamo to win @ +320 = $100 to win $320 (profit)
Draw @ +320 = $100 to win $320 (profit)
To surmise, the above example shows that Austin FC is the favorite to win the game as the soccer odds for them are much shorter than all other possible results.
Popular Types of Soccer Odds
Soccer odds come in all shapes and sizes. Sportsbooks have continued to try and create new and exciting markets to bet on within the sport and we've outlined some of these below.
Game Odds
Game odds are all based on the outcome of the match. These are specific to a single game and will be settled based on the final score. Almost all sportsbooks will offer most of these markets for the majority of games that they cover.
Moneyline
The moneyline bet is arguably the most popular bet type for soccer. This is where you bet on the correct result for that match. With soccer, you have three outcomes that are listed as a home win, away win, or a draw.
However, some sportsbooks will take bets on a more traditional format of moneyline markets which include only a home win or away win. Like a lot of US-based sports, with these soccer odds, the draw will be a push.
Example:
The moneyline market below is taken from an English Premier League game between Liverpool and Manchester United. The soccer line will look like this:
| | |
| --- | --- |
| Team | Odds |
| Liverpool Win | -150 |
| Manchester United Win | +250 |
| Draw | +320 |
Spread
Spread bets are often referred to as handicap betting for most soccer games. It allows the sportsbook to create a spread that evens out the chances of winning based on either adding or removing theoretical goals for one or both teams.
The spread will range based on the handicap that needs to be applied. Most of these will try and get each selection as close to even money as possible. This might mean adding 0.5, 1, 1.5, or more goals if needed.
Let's use the example from above to see how a spread might be applied. Note with these soccer lines that the draw bet is removed.
| | |
| --- | --- |
| Team | Odds |
| Liverpool -1.5 | +100 |
| Manchester United +1.5 | -125 |
Totals
Totals take into account the total number of goals that have been scored in a match. The soccer odds for these markets can either be linked to both teams combined or it can be for each individual team (the latter is much less common).
How these markets are delivered will vary. Most will allow you to pick the exact total number of goals for the game, but some give you brackets to choose from, such as 0-2 or 3-5. If you're picking from a bracket, the soccer odds for this will be much less than a single number on the nose.
Over/Under
Over/under betting is where you pick the line for the total number of goals scored for the game and then choose over or under that line.
Sportsbooks will set line totals and then the player needs to pick the over or under bet. For example, if the line was at 3.5 total goals and the player picked the over bet, they would need a combined 4 or more goals to win.
Prop Bets
Prop bets include most of the "everything else" category when it comes to soccer betting. This is where the creativity from the sportsbook comes into play and with soccer betting, the list is endless.
Popular prop bet markets include:
First goalscorer
Anytime goalscorer
Player to be carded
Total corners
Total booking points
Most shots on target
Draw no bet
Handicaps
Correct score
Result and both teams to score
Both teams to score
Double chance
Futures Odds
Futures odds are where you're betting on events that are going to take place over a significant period. These are longer bets and there's a good chance that multiple games will need to be played before these markets are settled.
One of the biggest benefits of futures betting is that you often get the best price the further out you are. An example of this would be backing a team to win the league where the favorite preseason will be longer odds than when they are top of the league halfway through.
Competition/League Winner
League and tournament winners are the most common bet for futures. This is where you back a team to win the league or you back them to win a tournament/cup. As mentioned above, the best soccer odds are always at the start of the competition and it's here that usually yields the best value soccer lines.
The example below includes the top three teams that are priced to win the MLS Cup.
| | |
| --- | --- |
| Team | Odds |
| Los Angeles FC | +300 |
| Philadelphia Union | +700 |
| New York City FC | +800 |
Top 4/10 Finish
Backing teams to finish within a certain number of places at the end of the season is another popular bet. All you need for this is for your pick to land within the range set out by the betting market and you're bet will be a winner.
The range of positions will depend on the league in question. The English Premier League is broken down into the top four (Champions League spots), top 6 (historically best 6 teams in the league) and top 10 (top half finish).
Soccer odds for these will range accordingly, with the fewer spots up for grabs increasing the odds on offer. Below are the current odds for the top 4 places in the English Premier League 2023:
| | |
| --- | --- |
| Team | Odds |
| Manchester City | -3300 |
| Liverpool | -1000 |
| Tottenham | -138 |
| Chelsea | -138 |
Top Goalscorer
Top goalscorer markets are where you bet on the player to score the most goals for that season or tournament. In major tournaments such as the World Cup, this market is also known as the Golden Boot and is one of the highest individual accolades that a player can scoop.
The table below shows the top picks for the 2022 World Cup Golden Boot:
| | |
| --- | --- |
| Player | Odds to win Golden Boot |
| Harry Kane (England) | +700 |
| Kylian Mbappe (France) | +900 |
| Karim Benzema (France) | +1,200 |
| Cristiano Ronaldo (Portugal) | +1,200 |
| Lionel Messi (Argentina) | +1,400 |
| Neymar (Brazil) | +1,400 |
| Romelu Lukaku (Belgium) | +1,600 |
| Raheem Sterling (England) | +2,000 |
| Vinicius Jr. (Brazil) | +2,500 |
| Memphis (Netherlands) | +2,500 |
| Diogo Jota (Portugal) | +2,500 |
| Lautaro Martinez (Argentina) | +2,500 |
Soccer Parlay Odds
Soccer parlay bets are essentially combination bets where you combine two or more picks to create a single bet. For this you will need all the selections to come in and should just one of them lose, then the whole bet will lose.
To work out soccer parlay odds it's a lot easier to work with decimal odds than it is with American odds. All you need to do is multiply each price by the next to get the total.
Example
| | |
| --- | --- |
| Team | Odds |
| Newcastle | 2.1 |
| Everton | 1.8 |
| West ham | 1.65 |
| Tottenham | 2.3 |
| Total | 14.35 |
Live Soccer Odds
Live soccer odds are some of the most exciting that you can access. These are markets that will change as the game is taking place and will react with each kick of the ball, potentially.
Most sportsbooks offer live betting and you're going to get access to markets that were not accessible pre-kickoff. These include the next player to be carded, the next goal, the method of the next goal, the time of the next goal, and so on.
How to Find the Best Soccer Odds
We've included a guide below to show you how to find the best soccer odds. Our example is BetOnline, which we rate as the best sportsbook for betting on soccer. Use it to learn how to register an account and then place a bet.
Go to the site, click on "Join" and fill out the registration form.
Head to the cashier once you are signed up to make your first deposit.
Use the promo code INSIDERS to get a $1,000 welcome bonus at the sportsbook.
Use the navigation panel down the left side to find soccer and browse the matches.
Click on the soccer odds to add your bet to your bet slip and enter the stake.
Use the account section to keep track of any live and settled bets.
The Best Sportsbooks for Soccer Odds
The table below highlights the top sportsbooks for soccer odds. These are some of the best soccer betting sites in the industry right now and with each we've included the size of the bonus that you're able to claim if you set up a new account.
Explore Our Sports Betting Guides
FAQs
How do odds work in soccer?
How are soccer betting odds determined and calculated?
What are the best odds to bet on in soccer?