Albemarle County Fire Rescue responds to barn fire on Millington Road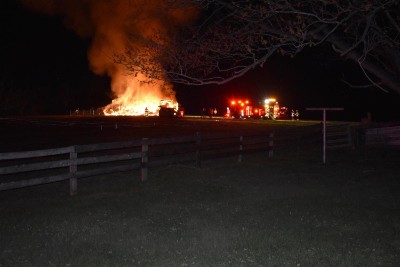 Career and volunteer units from Albemarle County Fire Rescue responded to the report of barn fire on the 4100 block of Millington Road on Friday at 10:47 p.m.
Units arrived to find a large barn fully engulfed in flames. The fire was extinguished at 1:25 a.m. on Saturday. Material continues to smolder under the metal roof and crews are monitoring the structure.
There were no injuries reported at time of incident.
The fire is under investigation by the Albemarle County Fire Marshal's Office.