AAA: Gas prices climb to 2015 high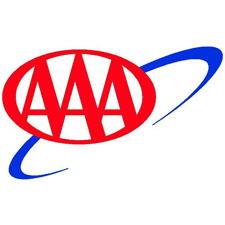 Average gas prices have moved higher for 23 consecutive days (up 27 cents per gallon), due to higher crude oil costs and a number of refinery issues.  Friday's national average gas price of $2.66 per gallon represents the most expensive average price of the year.
Motorists are paying six cents more per gallon than one week ago and 27 cents more than one month ago.  Although the national average is currently moving higher, relatively lower crude prices continue to provide consumers with significant year-over-year-savings as Friday's gas price average was $1.01 per gallon less than a year ago.  Prices at the pump often increase in the spring due to seasonal maintenance, rising demand and the higher costs associated with producing more expensive summer-blend gasoline.  Unexpected refinery issues are also keeping upward pressure on gas prices and consumers may see prices rise a bit higher over the next few weeks.
The price of crude oil continues to rally due to a slowdown in U.S. production, a weakening dollar and growing instability in the Middle East.  U.S. oil supplies remain at record highs, but the growth in production has reportedly slowed in recent weeks, which could indicate a new balance in supply and demand.  While crude oil is trading at a five month high (within a dollar or so of the $60 per barrel mark), it is unclear whether oil prices will remain at this level. U.S. oil-drilling rigs have reached their lowest level since October 2010, and U.S. oil storage remains at an all-time high. Domestic oil production companies are keeping a watchful eye on the price and they could ramp up or resume production in order to capitalize on any upward movement.  At the close of Friday's formal trading on the NYMEX, crude oil settled at $59.39 per barrel, up pennies on the week and posting a seventh weekly gain.
The Energy Information Administration (EIA) noted in its weekly report that crude oil inventories fell 3.9 million barrels to 487 million barrels.  The downward movement follows only one other week in 2015 (week ending Jan. 2) and puts inventories 87.6 million barrels higher than the same time last year.  Gasoline stocks rose 400,000 barrels to 227.9 million.  Gasoline demand dropped 135,000 barrels per day (bpd) to 8.785 million bpd.  The latest four-week average for gasoline demand, 8.951 million bpd, is 3.9 percent higher compared to the same time period last year.
"Rising pump prices are directly tied to the price of crude oil, which is more than $15 above the mid-March price," said Martha M. Meade, Manager of Public and Government Affairs for AAA Mid-Atlantic.  "But despite this upward trend in crude prices, AAA believes motorists will continue to see pump prices significantly lower than last year, barring any major supply disruptions."
With the Memorial Holiday weekend less than two weeks away, AAA Travel projects 37.2 million Americans will journey 50 miles or more from home during the unofficial start of summer, a 4.7 percent increase from the 35.5 million people who traveled last year and the highest travel volume for the holiday in 10 years. Kicking off the summer driving season, 33 million travelers (more than 88 percent) will be driving to their destinations.  Memorial Day weekend travelers will continue to benefit from substantially lower gas prices compared to recent years.  Despite recent gas price increases, prices at the pump remain more than $1.00 lower than this time last year and the lowest Memorial Day price in five years, fueling consumer optimism and willingness to travel.  Barring any major supply disruptions, AAA continues to believe the national average is expected to remain below $3 per gallon throughout 2015.
CURRENT AND PAST GAS PRICE AVERAGES
Regular Unleaded Gasoline (*indicates record high)
5/10/15

Week Ago

5/3/15

Year Ago

5/10/14

National
$2.66
$2.62
$3.66
Virginia
$2.44
$2.40
$3.48
Charlottesville
$2.39
$2.37
$3.44
Norfolk Area
$2.44
$2.38
$3.53
Richmond
$2.45
$2.44
$3.41
Roanoke
$2.35
$2.25
$3.41
Crude Oil
$59.39

per barrel

(Friday 5/8/2015 close)

$59.15

per barrel

(Friday 5/1/15 close)

$100.26

per barrel

(5/8/14)
Comments