#4 Duke rallies, but #2 Virginia has final answer in 65-63 win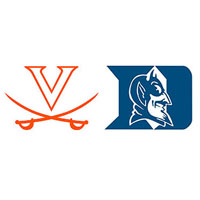 A 24-7 Duke run erased a 13-point second-half deficit, but Virginia had the final answer down the stretch in a 65-63 win in Durham on Saturday.
The second-ranked 'Hoos (20-1, 9-0 ACC) led 32-22 at the half and 35-22 on a three-pointer on the opening possession of the second half by Devon Hall.
Duke (18-3, 6-3 ACC) went to a 2-3 zone in the second half after UVA shot 44.8 percent from the field in the opening 20 minutes, and it worked. Virginia missed 11 of its next 14 shots from the field after the Hall three, and the Blue Devils, after shooting just 37 percent from the field in the first half, made 12 of their first 16 in the second half.
A Marvin Bagley III layup with 10:37 to go gave Duke a 46-42 lead, but Virginia would respond.
After a Bagley three put the Blue Devils on top 49-46 with 9:28 to go, a De'Andre Hunter layup started a 7-2 run over the next four minutes.
It would be a nip-and-tuck battle from there. A Kyle Guy three with 3:20 to go gave Virginia a 60-55 lead, but a Wendell Carter free throw and a Bagley dunk cut the margin to 60-58 into the final minute.
Ty Jerome hit a deep three with 39 seconds left to push it back to five, at 63-58. After a Grayson Allen miss, Virginia had two chances to close the game out at the free-throw line, but Guy and Jerome each missed the front ends of one-and-ones.
After the second, Bagley drained a three from just in front of the Duke bench with 7.4 seconds to go to make it 63-61.
Guy then connected on both ends of a one-and-one with 5.1 seconds left to ice it.
Bagley scored on a tip-in of a missed three by Gary Trent Jr. at the buzzer to close out the scoring.
Virginia shot 39.4 percent from the field (26-of-66) and 27.3 percent from three-point range (6-of-22), and shot just 35.1 percent (13-of-37) from the floor in the second half.
Guy led UVA with 17 points, shooting 5-of-13 from the floor and 2-of-9 from three-point range. Hall had 14 points, eight rebounds and three assists in 39 minutes of floor time.
Jerome had 13 points, seven assists and five rebounds. Hunter had 12 points in 24 minutes off the bench, and had to spend a good bit of time on the defensive end on Bagley with Isaiah Wilkins in foul trouble.
Wilkins played just three minutes in the first half after picking up two quick fouls, and ended up getting just 14 minutes, while collecting four fouls.
Bagley had 30 points and 14 rebounds, shooting 13-of-18 from the floor, and played all 40 minutes.
Wendell Carter had 14 points and 15 rebounds for Duke, which owned the boards, with a 44-31 advantage, though Virginia actually had a 12-10 advantage in second-chance points on the day.
Duke killed itself with turnovers, committing 16 turnovers on its 66 possessions, and Virginia had a 14-4 edge in points off turnovers.
Team Notes
Virginia improved to 20-1 and 9-0 ACC
UVA ended i­ts 17-game winless streak against Duke in Durham, posting its first win since 1995
The win ended Duke's three-game winning streak vs. Virginia
The Cavaliers' 12-game winning streak is their longest since starting 19-0 in 2014-15
UVA has had five 11-game or more winning streaks under Tony Bennett
UVA posted its first win against a top-5 opponent on the road since 1993 (77-69 over No. 3 Duke)
Virginia has started 9-0 in ACC play for the first time since starting 12-0 in 1980-81
UVA held its 21st opponent under 50 percent shooting (Duke – 48.2%)
UVA is 5-1 on the road, including a 4-0 mark in ACC play
UVA is 3-1 vs. ranked opponents
UVA led 32-22 at halftime, limiting its seventh ACC foe to 25 points or less in the first half
Marvin Bagley III (30 points, 14 rebounds) and Wendell Carter Jr. (14 points, 15 rebounds) are the first pair of opponents to post double-doubles since Devin Robinson and Justin Leon of Florida (3/18/17)
Tony Bennett captured his first win at Cameron Indoor Stadium and has now won at least one road contest at every Pac-10 (now Pac-12) and ACC school during his 12-year coaching career
Player Notes
Devon Hall (14 points) has reached double figures in eight straight games
Kyle Guy (15 points) has reached double figures in 18 games and has led UVA in scoring in 10 contests
Guy extended his 3-pointer streak to 21 games, most for a UVA player since Joe Harris' 23-game streak in 2013-14
Guy scored UVA's first five points and made UVA's first field goal at

15:43

Ty Jerome (13 points) reached double figures for the eighth time this season
De'Andre Hunter (12 points) reached double figures for the sixth time in eight games