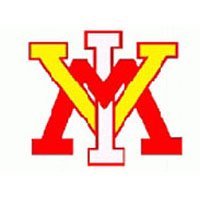 Blake Cashin had her first career hat trick and Emma Quirk tied a school record with three assists, leading the VMI Keydets past the Hampton Lady Pirates, 7-0, in non-conference women's soccer action Tuesday at Patchin Field in Lexington.
Hampton (0-1-1) kept the Keydets off the board early, but VMI (2-0) scored three times in less than four minutes to take the lead for good. Cashin had two of the three goals in that spurt, a run that started at the 12:41 mark, and capped the scoring with a goal in the 89th minute as well.
Quirk, meanwhile, assisted on three goals in the first 39 minutes of action, tying a school record accomplished three times previously.
The Keydets opened the scoring in the 13th minute, when Cashin beat two defenders and got a shot off from 10 yards out, to the left side of Hampton goalie Maya Andrews. The shot was good for Cashin's first goal of the year and a 1-0 VMI lead.
That margin doubled 90 seconds later, when Quirk played a high, arching cross across the top of the box. Lizzy Cotter headed it with a dive and put it into the back of the net for her second goal of the season, putting the Keydets up, 2-0. Cashin added her second score in the 17th minute, and VMI was never threatened from there.
The margin grew to four at 26:07, when a Quirk corner kick was drilled in by freshman Katelyn Lauziere for a 4-0 advantage. Kristen Whitehurst tacked on a goal in the 39th minute, again assisted by Quirk, for a 5-0 edge that accounted for the halftime margin.
Quirk got in on the goal scoring early in the second half, when she stole a loose ball from keeper Andrews and tapped it in to make it a 6-0 contest. The pace of the game notably slowed from there, as both teams made multiple substitutions throughout the remainder of the second half. Cashin capped the scoring, and got her hat trick, at 88:11 to account for the final margin.
In the victory, VMI outshot Hampton 25-3 and held a 6-0 edge in corner kicks. The Lady Pirates made six saves – five credited to Andrews – while Ceci Keppeler made one second-half stop for the lone Keydet save. Emily Marbury started the game, played the first 45 minutes and was not tested.
VMI women's soccer will return to action, and look for its first-ever 3-0 start, Saturday when the team plays host to Eastern Kentucky. Action gets underway at 1 p.m. and the game can be seen on ESPN3.