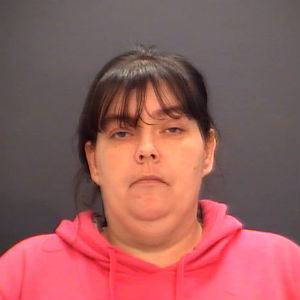 The Waynesboro Police Department arrested a Crimora woman Tuesday morning after she fell unconscious while sitting in her vehicle at a local car wash because of prescription drug intoxication.  She had her two young sons, ages 5 and 6, in the vehicle with her.
Jennifer Lee Patrick, 32 years old, faces several charges due to her intoxicated, belligerent behavior that continued at the Augusta Health emergency room where she was taken for examination after her arrest.
On December 22 at approximately 11:10 a.m., officers and the Waynesboro First Aid Crew responded to Pinky's Car Wash, 105 East Avenue, for a report of an unresponsive female sitting in a vehicle.  The caller indicated that Patrick's five year old son walked to Weasie's Kitchen, 130 East Broad Street, and told patrons and staff that his mother wouldn't wake up and he thought she was dead.   Members of WFAC were able to revive her but she was highly impaired and incoherent.  She told them and officers that she had taken several prescription pills.  The WFAC deemed her medically fine sans intoxication and cleared from the scene.
After notifying Child Protective Services, who released the children to their father, the officer arrested Patrick for Public Intoxication and Contributing to the Delinquency of a Minor, both misdemeanors.  She was remanded to Middle River Regional Jail until she sobered up.  However, due to her level of impairment, MRRJ staff required that she be medically cleared before assuming responsibility of her.  Therefore, an officer transported her to the Emergency Department at Augusta Health for examination.
While awaiting examination in the ER, Patrick became difficult to manage for the officer and Augusta Health security officers.  She repeatedly kicked the officer and attempted to free herself.  Eventually, she was medically cleared and discharged.  While the officer was escorting Patrick to his police car, Patrick continued to flail causing her pants to fall down.  She also grabbed the officer's Taser and tried to un-holster it.  The officer had to use physical force including a Taser drive stun, which had no effect, to get her under control and restrained in his vehicle.
Due to the incident at Augusta Health, Patrick netted two additional charges of Obstruction of Justice (m) and Assault & Battery of a Law Enforcement Officer (f).
The officer transported her to MRRJ where she was eventually freed on bond.