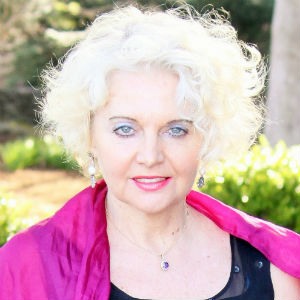 Domnica Radulescu, the Edwin A. Morris Professor of Romance Languages and director of the Medieval and Renaissance Studies Program at Washington and Lee University, has published her third novel, "Country of Red Azaleas" (Twelve of Hachette Publishing).
The launch of both her book and her national book tour takes place at Lexington's Books & Co. on April 5, at 5:30, with a reading and book signing. From there, she will promote the book in Charlottesville, New York City, Washington, D.C.,Chicago and Asheville, North Carolina.
Radulescu is the author, editor or co-editor of 13 books, and she is working on her fourth novel, "My Father's Orchards." Her work includes "Theater of War and Exile: Twelve Playwrights, Directors and Performers from Eastern Europe and Israel" (2015), "Women's Comedic Art as Social Revolution" (2011), "Black Sea Twilight" (2011), "Realms of Exile: Nomadism, Diasporas and Eastern European Voices" (2002) and "Train to Trieste" (2008), which was published in 12 international editions and won the 2009 Library of Virginia Fiction Award. She also is the author of book chapters, articles and plays, and directs plays.
"April is a huge month for me," said Radulescu. "As well as going on a national book tour, I'm also debuting my newest play, 'Exile is My Home,' at the Theater for the New City in lower Manhattan for a four-week run beginning April 28. This will be a very rich, exhausting and exciting two months for me."
As in her previous novels, Radulescu's "Country of Red Azaleas" encompasses themes that resonate strongly with her. "I've generally been haunted as a creative writer and scholar by the ways people, particularly women, survive great traumas such as war, displacement, genocide, immigration and political upheaval," she said. "I have my own immigrant story, having grown up under the worst communist dictatorship in Eastern Europe, so I respond to and am drawn to these realities and to depicting them in my art and scholarly work."
"Country of Red Azaleas" draws on the Balkan War to tell the story of two women, one from Serbia, the other from Bosnia, whose deep friendship continues over decades and across continents, through war and peace and love and estrangement.
New York Times bestselling author Jasmin Darznk noted, "This exquisite novel celebrates the bonds of female friendship and the spirit of women's resilience and self-invention." Marjorie Agosin, an award-winning author, said, " With a poetic intelligence and extraordinary sense of language and history, Radulescu has given us a mesmerizing work, a tribute to the human spirit and its resilience."
For this novel, Radulescu gathered information from many sources, including scores of first-person testimonials, and she visited the sites where the atrocities occurred.
"I allowed myself to be imbued by the horror of the events and the stories of survival," Radulescu said. "It was very hard emotionally to see the cemeteries, the camps. There are truly sinister places in Srebrenica. I was very affected by it. Because I'm an engaged political writer, I process these realities in unpredictable ways. I develop very strong female characters who are survivors and who overcome the victim status and who move on to find meaning after suffering horrific trauma. While my subject is dark, 'Country of Red Azaleas' is life-affirming. It is not a war book or a history book. It's a book of friendship and love between two women whose lives are profoundly affected by the War of the Balkans. This is about women's perspective of war and the way women's lives are affected. I think the book will cause some controversy, quite frankly, because I unapologetically take the side of the war victims and of the Bosnian people."
She added, "But again, it's a novel, a work of art, and my own way of artistically interpreting the political events. My belief is that art works both as a testimonial and also as a reframing of trauma and a healing of trauma by not just telling the story, but rechanneling it through the imagination. My writing doesn't dwell on the blow-by-blow horrors, but suggests the suffering and offers hope."
Radulescu began working on the book in 2011, almost 20 years after the start of the Balkan War. "I immersed myself completely into these characters. They haunted me, they lived with me for several years. I wasn't always much fun to live with, because I was talking to them all day long in my head. This has been my most intense and most traumatic writing at times, but also had a cathartic effect."
Radulescu joined the W&L faculty in 1992. In addition to teaching courses in French language and literature and in Italian Renaissance literature, she is the co-founding chair of W&L's Women's and Gender Studies Program and is the founding organizer and director of the National Symposium of Theater in Academe. She is the 2011 recipient of the Outstanding Faculty Award from the State Council of Higher Education for Virginia.