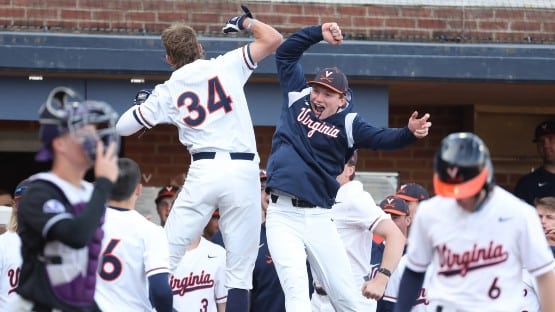 The eighth-ranked Virginia baseball team welcomes ACC rival Florida State for what should be an action-packed, three-game weekend series at Disharoon Park beginning Friday afternoon, weather permitting.
First pitch for Friday's ACC home opener has been moved up from 6 p.m. to 1, due to nasty weather in the forecast. Both the Saturday and Sunday start times remain unchanged, and are also scheduled for 1 p.m., if Mother Nature cooperates.
The Cavaliers (19-2, 4-2 ACC) are in the midst of a busy, five-game week after picking up a pair of non-conference victories against High Point and Georgetown, and have now won 14 in a row at Disharoon Park dating back to last season.
After two tough, but successful weekends on the road to start ACC play against North Carolina and NC State, however, the Wahoos are excited to be back at The Dish for the next conference series. Virginia won the first two games in each of those series before dropping the finale.
"UNC and NC State are just great programs and going in there away both weekends and getting two series wins was huge," said sophomore shortstop Griff O'Ferrall. "I think it built a lot of confidence for us and it also gave us things to work on, like we didn't get to finish both weekends, and so we know that we have to be that much better on the third day. Every ACC series gives us something to work on, so we're gonna take that into this weekend."
Coming into Friday, Virginia leads the ACC in batting with a team average of .332. Juniors Kyle Teel and Jake Gelof both homered in Wednesday's 6-4 win against the Hoyas, and have led the way in terms of consistent offensive production.
Teel is second in the conference with an eye-popping .473 batting average, and ranks in the top 10 in several other categories — hits (37, tied for third); runs scored (27, tied for eighth); total bases (59, tied for eighth); on-base percentage (.527, fourth) and slugging percentage (.728, 10th).
Gelof, meanwhile, leads the Hoos with 7 homers (tied for sixth) and 31 RBI (second) on the season, and O'Connor loves what he's seeing from both of his star players.
"Teel and Gelof have been outstanding," O'Connor said of his dynamic duo. "Obviously the performance on the field, but their leadership in the clubhouse. Your draft-eligible year can be a challenging year because there can be distractions, and they haven't been distracted because their approach has been so good and they've led by example on the field, but they've also led in that clubhouse. They have really taken charge and shown what this baseball program is about."
Along with Teel and Gelof, Ethan Anderson, O'Ferrall, Casey Saucke and several other Cavaliers have delivered both at the plate and with their glove, as the Hoos also own the ACC's best fielding percentage (.988).
Out of the bullpen, Jake Berry and Jay Woolfolk have combined for 5 saves, while in terms of starting pitching, the Hoos revamped their rotation through the transfer portal in the offseason. With several new faces on the mound, UVA has picked up right where it left off last season.
Junior lefty transfer (from Army) Connelly Early has gotten the majority of the midweek work, as referenced by an ACC-best 5 wins (5-0) in 6 starts. He struck out a career-high 10 batters against High Point in an 8-3 victory on Tuesday.
The weekend combo of grad transfers Nick Parker (Coastal Carolina) and Brian Edgington (Elon) along with freshman Jack O'Connor has produced an 8-1 record and 89 punchouts in their 15 starts.
FSU will counter with what O'Connor refers to as "the best collection of pitchers that we have seen" in a weekend series this season. The likely starters are Jackson Baumeister (1-1, 5.31 ERA), Jamie Arnold (1-2, 6.16 ERA) and Carson Montgomery (0-1, 7.11 ERA), with Conner Whitaker (3-0, 5.14 ERA) and Andrew Armstrong (1-1, 2.93 ERA, 2 saves) leading the charge in relief.
First-year coach Link Jarrett — who in 2022 led Notre Dame to a College World Series appearance in just his second year after seven seasons at UNC Greensboro — returned to his alma mater this past summer and has earned a ton of respect from his counterpart, despite some early-season hiccups.
"I'll tell you, Link Jarrett, I think, is one of the great coaches in college baseball," said O'Connor. "What he did at Notre Dame was incredibly impressive. I don't know that anybody else could have done what he did there in his short tenure… That guy can really coach and get the most out of his team."
After winning seven of their first eight contests, the Seminoles (12-9, 3-3) have dropped three in a row and six of their last eight against some tough competition. Still, O'Connor knows the Noles will be giving it their all this weekend.
"You can go in a tough stretch in this league pretty quickly," the coach said of the Seminoles, "and then I know they had (third-ranked) Florida [Tuesday]. That's an incredible midweek opponent, and so I know how well-coached they are. I can promise you Coach Jarrett will have Florida State ready to play because I know the caliber of coach he is and the talent that they have. So it'll be a great weekend, a weekend that we're looking forward to."
FSU sophomore slugger James Tibbs III leads the Seminoles in several offensive categories, including batting average (.395), home runs (7), RBI (24), total bases (58) and runs scored (31).
"They were great last year when we played them and they're great every year," O'Ferrall said of the Noles, "and so whether they have a rank number in front of their name or not, we know they're going to be great. They've played a lot of really hard competition and they've been successful — and not successful — just like everyone else, and we know they're gonna come in with their best stuff."
Added Gelof: "I expect them to just play good baseball. This is the ACC, this is a tough league to play in, and you just go out there and we're just going to compete. They're gonna compete as well, so I think it'll be a fun weekend."