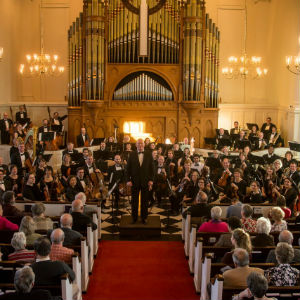 On Saturday, April 23rd and Sunday, April 24th, the Waynesboro Symphony Orchestra will join forces with Schola Cantorum of Waynesboro to celebrate 20 years of sharing music with the community.
For this special concert, acclaimed soprano Penelope Shumate will return to her home town to perform with the Waynesboro Symphony Orchestra and Schola Cantorum. In her performance career, Penelope Shumate has been described as having a "voice with power" and a "welcome fire" on stage. The New York Times praised her recent performance as the Soprano Soloist in Messiah for her Avery Fisher Hall debut at Lincoln Center, stating she "sang the soprano solos with appealing bell-like clarity and surpassing sweetness."
As they do every April concert, the String School will perform for patrons at the beginning of the program. The String School is operated by the Waynesboro Symphony Orchestra to provide violin, viola, cello and bass instruction to area students. The instruments, books and lessons are offered free of charge to students who demonstrate the desire, talent and commitment it takes to successfully learn how to play. String School offers weekly individual instruction and accepts students of all ages.
The orchestra is composed of musicians from Waynesboro and the neighboring communities as far away as Richmond, Monterey and the Washington DC area. Some are students or professors from area schools, colleges and universities, some are highly talented community members and others are professional musicians who enjoy the opportunity to play symphony music. All enjoy playing, learning from each other and enjoying all forms of orchestral music. The orchestra's music director, Peter Wilson, is an engaging and multifaceted violinist and conductor whose musicianship has been noted as "first-class" by The Washington Post. He has served as Music Director of the Waynesboro Symphony Orchestra since 2007 and was appointed Music Director of the Richmond Philharmonic Orchestra in 2013.
Schola Cantorum of Waynesboro was formed in 1996 to give accomplished area singers an opportunity to learn and perform great works of the master composers. Its name, derived from medieval Latin meaning "school for singers," is a testament to the mission of the group, which is to challenge its musicians to master and perform the great works of classical music for the enjoyment and education of the community.
About the Waynesboro Symphony Orchestra
The WSO was founded in 1996 as the Waynesboro Community Orchestra. In its debut concert, 23 musicians performed works by Lully, Bach and Haydn. Over the past decade the ensemble has grown significantly, having over doubled its core size and often tripling the original personnel for some repertoire, which now includes works by Beethoven, Copland, Mendelssohn, Mozart, Schubert, and Wagner. The ensemble has consistently programmed more challenging literature with each season, growing a repertoire that includes works from all centuries of the classical tradition. During the final concert of the 2005-2006 season, which celebrated the orchestra's 10th anniversary, the organization officially adopted its current name, the Waynesboro Symphony Orchestra.