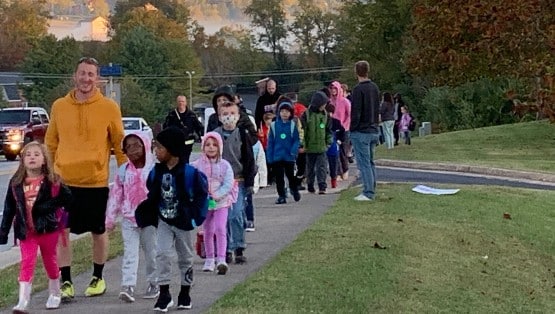 October is International Walk to School Month.
This week, the Waynesboro community has come together to celebrate Walk to School Week, which ends Friday, October 6.
Waynesboro Public Schools, the Office on Youth, Augusta Health, the city of Waynesboro, Waynesboro Police Department, Waynesboro Fire Department and the Waynesboro Family YMCA partnered to provide a safe walking environment for children to walk to their schools this week.
Walk to School Week emphasizes the importance of creating safe routes to school, increasing physical activity among children, concern for the environment and building connections between families, schools and their community.
"Walk to School Week is an exciting time for our community to raise awareness of the health benefits of adopting the daily habit of walking. Our city has worked diligently to increase the walkability of our community and Walk to School Week events at our schools highlight the improvements that have been made in the neighborhoods surrounding our schools. Our school division is thankful for all of the community partners and volunteers who continue to make this event a success year after year," Waynesboro Schools Assistant Superintendent Dr. Ryan Barber said.
Students from Berkeley Glenn, Wenonah, Westwood Hills and William Perry elementary schools and Kate Collins Middle School participated this week. Each day, students from each school were dropped off at a designated location by their bus. Then students walked to their school together as a group.
Tomorrow, Westwood Hills students will be dropped off at Ridgeview Park in Waynesboro. On Friday, Oct. 6, William Perry students will be dropped off at the Food Lion.
Drivers are encouraged to share Waynesboro roads with students and be aware of an increased number of students walking between 7:30 and 8:30 a.m. Drive with caution and support Waynesboro's students.