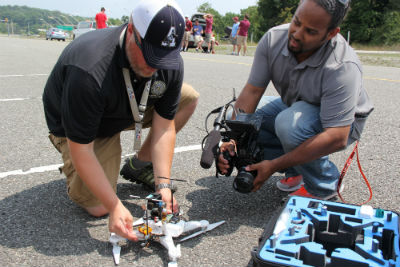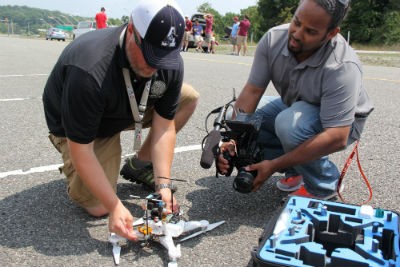 Officials with the Mid-Atlantic Aviation Partnership at Virginia Tech welcomed the Federal Aviation Administration's announcement last week that it will soon be simpler for the six unmanned aircraft systems (UAS) test sites to conduct research.
The FAA will provide "blanket" authorizations to fly public aircraft operations throughout the National Airspace System at or below 200 feet.
"This gives us a tremendous amount of flexibility to do research, search-and-rescue missions, and operations that advance the public good," said Jon Greene, the acting associate director of the Mid-Atlantic Aviation Partnership and an associate director of the Institute for Critical Technology and Applied Science. "We will be able to respond just about anywhere outside of five miles of an airport to save a life, help with a swift-water rescue, or find a missing person."
With blanket authorizations, the Mid-Atlantic Aviation Partnership test site can do low-altitude public aircraft operations without having to go through an authorization process, which ultimately will result in getting partners in the air more quickly and at lower cost, Greene said.
The FAA selected the Mid-Atlantic Aviation Partnership at Virginia Tech in December, 2013, as one of six national test programs to conduct research to integrate unmanned aircraft into the nation's airspace.
Since then, the Mid-Atlantic Aviation Partnership has worked with unmanned aircraft systems, also known as "drones," to aid emergency responders, survey energy pipeline infrastructure, study agricultural land, and teach reporters to cover news.
Previously, the FAA required authorization for each type of UAS the operators wanted to fly.
For example, the Mid-Atlantic Aviation Partnership is partnering with a coalition of news organizations to research real-life scenarios where reporters could use small unmanned aircraft — a case of a commercial use of UAS technology that requires a specific FAA Certificate of Waiver or Authorization.
The "blanket" authorizations allows unmanned aircraft systems under 55 pounds operated by the test sites for public purposes to fly up to 200 feet above ground level anywhere in the country except restricted airspace and areas close to airports and heliports.
According to the FAA, operators must fly during daytime visual flight rules conditions and within visual line of sight of the pilot.
These expanded operational parameters for the test sites are similar to those the FAA implemented recently for civil UAS operations authorized under a Section 333 exemption.
The six UAS test sites are the first public operators to receive this type of "blanket" airspace access across the United States, including Alaska and Hawaii.
The sites may still fly outside the "blanket" parameters if they receive or retain separate waivers specific to the airspace requested for those operations.