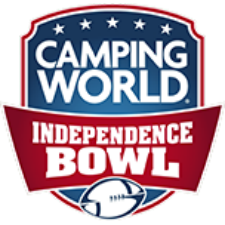 Virginia Tech led by 24 midway through the second quarter, but the Hokies had to fight off a late Tulsa rally to clinch a 55-52 win in the Independence Bowl on Saturday.
It was the final win for coach Frank Beamer in his storied 29-year career at his alma mater, and it came at the location of his first bowl win, in 1993.
The Hokies launched a streak of 23 straight bowl appearances at the end of that season, which concluded with another high-scoring Tech win, 45-20 over Indiana in that one.
This one was a little too exciting for Hokies fans.
Tulsa (6-7) scored twice in the game's opening 3:06 on quick-strike drives, but Virginia Tech (7-6) seemed to be in control after a three-touchdown barrage in a 5:58 span of the second quarter that saw the Hokies go up 45-21 with 7:11 to go before the half on a 67-yard punt return TD by Greg Stroman.
The Golden Hurricane closed to 45-31 at the half, but Tech, getting the ball to start the second half, took the opening drive of the third quarter and played keep-away, going 81 yards on 15 plays, culminating in a Trey Edmunds 1-yard touchdown run that pushed the lead back to three scores at 52-31.
A Dane Evans 9-yard TD run after a Michael Brewer interception cut the margin to 52-37 with 4:11 to go in the third.
Joey Slye was good from 41 yards to give Tech a 55-37 lead with 11:09 left in the fourth. Evans hooked up with Joshua Atkinson on a 21-yard touchdown pass, and with a two-point conversion the deficit was at 10 at 55-45 with 7:35 left.
Evans hit Keyarris Garrett on a 36-yard TD pass with 3:47 left to bring Tulsa within a field goal.
The Hokies got a first down, but then had to punt, giving Tulsa the ball back at their own 20 with one timeout and 1:54 to go. But after Evans and Garrett connected on an 18-yard pass to get the ball out to the Tulsa 46, the Hurricane would get no further downfield, and a Dadi Nicholas sack on fourth down would end it.
Isaiah Ford was named the game's MVP after catching 12 passes for 227 yards and a touchdown, a 75-yard first-quarter score.
Brewer threw for 344 yards on 23-of-37 passing with a touchdown and an interception.
Virginia Tech gained a season-high 598 yards of total offense, but also allowed 563 yards to Tulsa, the most since the season opener with Ohio State, with Evans going 27-for-44 passing for 374 yards and three touchdowns, and tailback D'Angelo Brewer gaining 105 yards on the ground on 14 carries with two touchdowns.