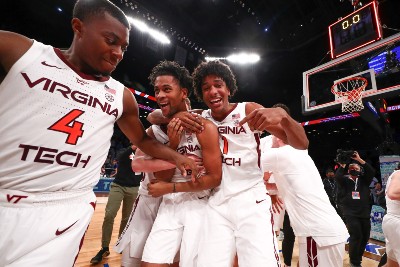 Virginia Tech guard Darius Maddox is headed to George Mason to play for new coach Tony Skinn.
Maddox, a rising senior, missed the final 14 games of the 2022-2023 season at Tech due to an undisclosed family matter.
In 20 games, 19 starts, the 6'5" Bowie, Md., native averaged 8.5 points in 29.5 minutes per game.
His shooting was way, way down from his sophomore season numbers – 37.4 percent from the field in 2022-2023, down from 51.3 percent in 2021-2022, and 32.3 percent from three last season, down from 51.9 percent the year before.
Maddox went for double figures in scoring in 10 of his 20 appearances last season, including 13, on 5-of-9 shooting, 3-of-4 from three, in the Hokies' 78-68 loss at Virginia on Jan. 18.
His highlight at Tech was his game-winning, buzzer-beating three in the first round of the 2022 ACC Tournament that propelled the Hokies to an improbable four-game run to the program's first ACC Tournament championship.