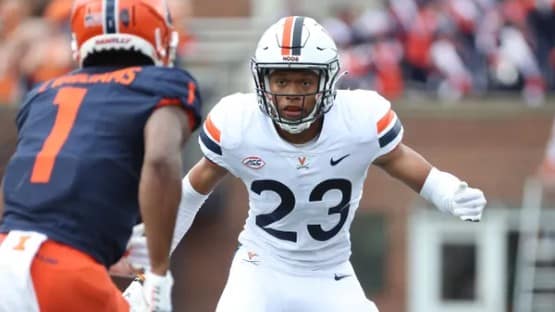 Virginia should be stout on defense again this year, after a nice bounceback year in 2022 under first-year defensive coordinator John Rudzinski, but, man, how much better would the D be in 2023 if Fentrell Cypress and Anthony Johnson were back in the fold?
Cypress and Johnson were not even arguably the best cornerback duo in the ACC; it wasn't even close.
Cypress earned an 87.6 grade from Pro Football Focus for his pass-coverage productivity in 2023. On 358 coverage snaps, he allowed 18 receptions on 40 attempts in his direction, with nine pass breakups, and an NFL passer rating against of 58.2.
Johnson got an 84.4 grade on his coverage from PFF. On 381 pass-coverage snaps, he allowed 31 catches on 60 pass attempts, also had nine pass breakups, two INTs, and an NFL passer rating against of 53.3.
Johnson could have come back for another year, which would have been his sixth, but opted to turn pro, and is now in camp with the New Orleans Saints.
Cypress also decided to move on, hitting the transfer portal after the season, eventually landing at Florida State.
Rudzinski and Tony Elliott had some success on the transfer portal landing some secondary guys – Malcolm Greene from Clemson (2023 PFF grade: 71.2), Sam Westfall from SMU (2023 PFF grade: 60.3),  Tayvonn Kyle from Iowa State (2023 PFF grade: 57.6).
But, yeah, going to miss Johnson and, in particular, Cypress.
Johnson wasn't really expected to be coming back after five years at the college level; Cypress, a homegrown 'Hoo, was.
But now he's a 'Nole, and an important building block for an FSU team that has College Football Playoff aspirations.
Florida State head coach Mike Norvell raves about Cypress, who played in only nine games in his first three years at UVA before exploding onto the scene as a redshirt junior in 2022.
"He has been remarkable," Norvell told reporters at this week's ACC Football Kickoff in Charlotte. "Fentrell, from the first day he's gotten here, once again, it's been about the work, not just on the field, but building a relationship with his teammates, coming in and learning things that we do schematically.
"He's just a wonderful young man, a wonderful representative of our program," Norvell said. "Going through spring practice, you just saw the way that he was able to transition, and every day he worked to get better, to be more confident in the calls, more confident in the communication. Really took some great steps as spring progressed.
"You see that confidence that's really emerged throughout the course of the summer work. He's in remarkable shape. He has done a great job with his physical development. He has put on great weight. I think he has a chance to be a really special player in our defensive backfield.
"We've all got to see him and have seen him play in ACC contests and play at a very high level, and I think he's about to take his game to a whole other level here in Tallahassee," Norvell said.