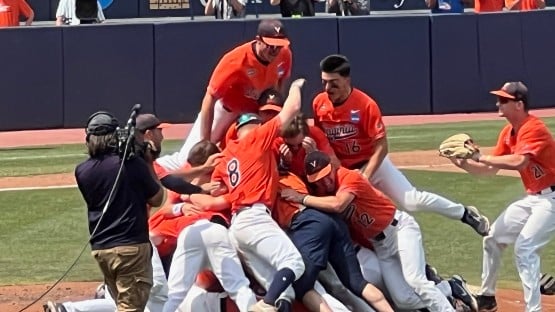 Virginia Baseball, coming off its sixth College World Series appearance this past summer, has its schedule for 2024, which begins at home on Feb. 17.
Yeah, br-r-r-r-r, considering the date.
The Cavaliers open with a three-game series with Hofstra, the first three of 34 games at Disharoon Park, a schedule that includes an ACC series with Wake Forest, which also represented the ACC in Omaha in 2023.
That series is set for March 15-17.
Virginia also has ACC home series with North Carolina (April 4-6), Georgia Tech (April 19-21), NC State (May 10-12) and Virginia Tech (May 16-18).
Other schedule notes
Virginia will open up ACC play in Miami (March 8-10) and play road ACC series against Pitt (March 22-24), Duke (March 28-30), Louisville (April 12-14) and Boston College (April 25-27).
The Cavaliers will participate in the inaugural Jax Baseball Classic at 121 Financial Ballpark in Jacksonville, Fla. Beginning Feb. 23. Virginia will play Wichita State (Feb. 23), Iowa (Feb. 24) and Auburn (Feb. 25) over a three-day span.
Virginia is scheduled to play a three-game midweek series against ODU, Feb. 20 and April 2 in Charlottesville and April 16 in Norfolk. The Cavaliers are slated to play in Norfolk for the first time since 2016.
UVA will make its annual trip to The Diamond, also home of the Richmond Flying Squirrels, to play VCU on April 30.
Season tickets
Season tickets for the 2024 season are on sale now. General admission seats are $75 each and reserved seats are available starting at $125 per season ticket. Season tickets may be purchased online at UVATix.com or by calling the Virginia Athletic Ticket Office at (434) 924-8821.
Season tickets can be paid in full or over an interest free bill plan.
UVA full-time faculty and staff are eligible to receive a discount of 20 percent on up to four season tickets by calling the ticket office. Season tickets in the baseline grandstand, infield grandstand and field level club require a per-seat donation to the Virginia Athletics Foundation.
For field level tickets part of the Jim Rutrough Club Lounge along the right field line, please contact the Virginia Athletic Foundation at (434) 982-5555.