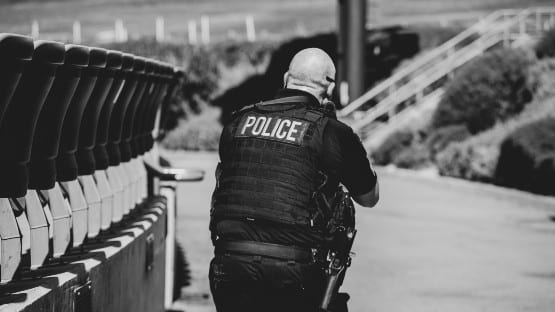 Part of a $5 million grant will allow VCU Health to serve victims of violence in the Richmond area and expand educational and training opportunities.
The grant, administered by the Virginia Department of Criminal Justice Services to the Virginia Hospital and Healthcare Association Foundation, will enable VCU Health to continue to serve as a technical assistance center, providing training and support for other programs throughout the state to develop and execute similar HVIPs.
The grant is awarded to VCU's Bridging the Gap program for hospital-based community violence intervention initiatives. The program is part of VCU Health's Injury and Violence Prevention program (IVPP), is evidence-based and a national model that provides services to Richmond area youth and adults who have been admitted to VCU Medical Center for intentional injuries such as gunshot wounds, stab wounds and assaults. The program focuses on the population with the goal of reducing the rate of re-injury, and subsequent health care demands and costs often associated with violent injuries, by providing the participants and their families with the services required to break the cycle of violence and reintegrate positively in the community.
Bridging the Gap began in 2003 and has served more than 1,950 patients. Research shows that program participants reduce reinjury rates by 76 percent, which means individuals who have experienced gun violence in the Richmond area and enroll in the program are significantly less likely to be readmitted to the hospital for gun violence. Program participants have also reduced their use of alcohol and drugs by more than half, all while seeking appropriate hospital and community services such as mental health assistance.
"For a long time, people have viewed trauma centers as the place that people go once they get shot, as the end of the path," Dr. Michel Aboutanos, medical director of the VCU Medical Center Level I trauma center, said. "That is not the case. Through Bridging the Gap, we have redefined the role of the trauma center. Not only are we treating patients from a clinical perspective, but we're intervening in the hospital and offering direct services and connecting patients and their families with resources and support with our partners in the community."
Bridging the Gap supports and helps coordinate appropriate follow-up health care after discharge, provides survivors of violence and their families with intensive case management services in home and community settings, and continued engagement with resources to help with housing, enrolling in educational and vocational programs, assisting in finding positive social outlets and accessing mental health services.
"We recognize that a hospital is not just a building with medical equipment; it is a cornerstone of a thriving community," Michael Elliott, chief operating officer of VCU Health, said. "We are proud of the work of our IVPP initiatives and Bridging the Gap. Our mission goes beyond providing medical care; it extends to fostering a culture of health, compassion, and resilience and that's what the programs are all about."
The $5 million grant is the largest award in VHHA Foundation history and will be distributed over the next two years.
"The partnership between VHHA Foundation and IVPP is fundamental to mitigate the public health crisis of gun violence in the commonwealth," Aboutanos said. "We are excited to share what we have learned over the past decade and help other hospitals and trauma centers develop their own HVIPs."
According to VHHA Foundation CEO Kelly Cannon, only one community violence HVIP existed in Virginia four years.
"Dr. Aboutanos and his team agreed to partner with VHHA Foundation to lend their experience and expertise to help launch more hospital-based programs in communities impacted by violence. None of this would be possible without the leadership of Dr. Michel Aboutanos and the VCU Health Injury and Violence Prevention Program," Cannon said.