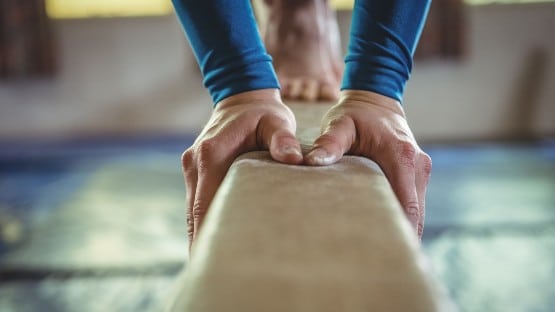 I am a child of the 1980s, and I remember idolizing Mary Lou Retton and what she was able to accomplish as a gymnast.
I also secretly wanted to be a gymnast myself at one point, but I never could have dedicated the time and energy to that pursuit.
I watched in awe in the summer of 1984 when she won the gold medal, and was thrilled in 1988 when she appeared in the film "Scrooged" as "Tiny Tim" in Bill Murray's production of Charles Dickens' classic.
I am heartbroken to hear she is suffering in the ICU with pneumonia, and, because she is uninsured, her daughters are on social media asking for donations.
As of yesterday, her GoFundMe page had raised more than $258,000, and today, the Houston Chronicle reported that Houston's Mattress Mack donated $50,000 toward Retton's hospital care.
The outpouring of support from Retton's fans and the American community is heartwarming, but her situation reminds me that many still struggle with health care costs.
I am not surprised that in the 21st Century in the United States an Olympic gold medal winner and world-known gymnast is uninsured. And some Americans who are insured live and work every day in fear of medical bills. I just posted a story today about the most stressed industries in America, and each industry reported a percentage were stressed over health care costs.
I am blessed to have good health insurance now, but from age 21 until 35, I was without health insurance. Youth in America are fortunate now that they have the option to be on a parent's insurance until age 26. In the 1990s, we did not have that option, and at age 21, I was off my dad's insurance and on my own to pay out-of-pocket for prescriptions and doctors' appointments. One year, I calculated that I spent $2,000 on prescriptions and appointments.
When I did obtain insurance through a full-time newspaper reporter position, I quickly learned it was not much better except some of my paycheck went to coverage. I continued to spend a lot out of pocket for annual routine medical expenses at both of my full-time positions between 2013 and 2020.
When I moved to the Valley in late 2015, I had put $3,500 in a health savings account. By the time I left the second full-time newspaper position in 2020, only $25 was left in that account.
When I lost that second full-time newspaper position in 2020, I was fortunate to qualify for Medicaid, and it was wonderful. The best insurance coverage I ever had.
Just after my dad remarried, my stepmom and my sister-in-law asked me which dentist I went to when I lived near Fredericksburg. I told them I didn't have a dentist. Except for having my wisdom teeth removed in spring 2002, I did not have health insurance and so I did not go to regular dental checkups for more than 10 years. My oral surgery was paid for at the time because I kept working a retail job long enough to have dental insurance and have surgery. But I almost could not get the time off from work to even have the surgery. And, afterward, my supervisor at the retail job would not allow me time off for follow-up appointments or even to take a dinner break at a reasonable time and eat while on pain medication.
I wish someone could explain to me why the greatest nation on the planet with the most opportunities for its people and resources still has not figured out how to keep everyone insured and healthy.
I hope Mary Lou makes it and lives without medical debt. Unfortunately, many Americans do live with medical debt. Many are just one sick day or one diagnosis away from disaster.
Related stories:
Warehouse and storage work top America's most stressed professional industries in 2023 – Augusta Free Press