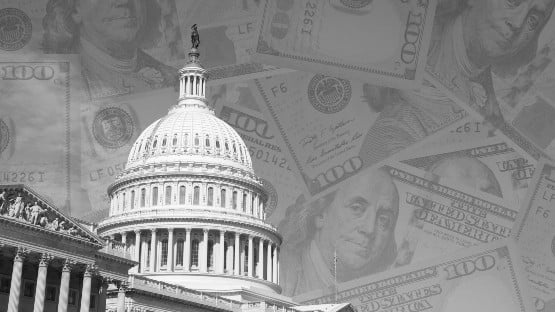 Update: Saturday, 10:29 p.m. The U.S. Senate voted 88-9 Saturday night to pass the continuing resolution that had earlier passed the U.S. House that will keep the federal government running into mid-November.
Mark Warner and Tim Kaine, both D-Va., issued a joint statement following the vote.
"Today, at the very last possible moment, Congress finally acted to avert a painful, pointless government shutdown," the senators said. "This deal only became possible when House Republicans turned to Democrats for the votes they couldn't muster within their majority to keep the government open.
"We are gravely disappointed that a few extreme Republicans in the House were able to prevent the inclusion of additional aid for our allies in Ukraine, even as 330 members of the House – Republicans and Democrats – voted just three days ago in support of funding for Ukraine. However, this bill will keep the federal government open for the next 47 days, during which we'll continue to work to pass bipartisan spending bills that renew our commitment to Ukraine in its fight for democracy and advance crucial Virginia priorities, including addressing the childcare crisis, expanding broadband access, and giving our servicemembers a raise."
The nine senators who voted no were all Republicans: Sens. Marsha Blackburn (R-TN), Mike Braun (R-IN), Ted Cruz (R-TX), Bill Hagerty (R-TN), Mike Lee (R-UT), Roger Marshall (R-KS), Rand Paul (R-KY), Eric Schmitt (R-MO), and J.D. Vance (R-OH).
---
First report: Saturday, 3:51 p.m. The U.S. House voted 335-91 on Saturday to pass a short-term funding bill that would keep the federal government open, averting the shutdown that had been looming for weeks.
The continuing resolution still needs to be approved by the U.S. Senate before midnight Saturday to keep the government running, and federal employees paid.
"I am relieved that Speaker McCarthy folded and finally allowed a bipartisan vote at the eleventh hour on legislation to stop Republicans' rush to a disastrous shutdown. Had he taken this step sooner it would have spared millions of Americans, including many of my constituents, a great deal of unnecessary fear and uncertainty," Northern Virginia Democrat Don Beyer said in a statement.
"Despite Speaker McCarthy's inability to govern, and extreme MAGA Republicans' desire to shut down the government to cut Social Security, slash public school funding, and criminalize abortion, House Democrats fought to fund the federal government and avoid a catastrophic shutdown," Richmond-area Democrat Jennifer McClellan said in a statement. "Today, I was proud to cast my vote for this Continuing Resolution to protect the 170,000 federal workers and 130,000 active-duty servicemembers in Virginia, who would have been furloughed or forced to work without a paycheck in the event of a shutdown.
The bill passed on Saturday funds the government for 45 days, kicking the can for passage of a full-year annual budget to mid-November.
The measure funds government at current spending levels, with additional funding for the FAA and $16 billion in disaster relief funding.
House Speaker Kevin McCarthy put this leadership position at risk by pushing the bipartisan continuing resolution forward.
It passed with Democrats voting 209-1 in favor, and Republicans voting 126-90 to advance the resolution.
Hard-liners in the House Freedom Caucus will no doubt push back against McCarthy in the aftermath.
"Kevin McCarthy put a CR on the Floor that got 209 Democrat votes, since it kept in place the Biden-Pelosi-Schumer policies that are destroying the country and the spending levels that are bankrupting us. Sadly, it also got 126 Republican votes. Uni-Party rule," Virginia MAGA Republican Bob Good wrote on Twitter after the vote.
Ben Cline, another MAGA Republican who represents the Sixth District in the House, joined Good in voting against the continuing resolution, tweeting ahead of the vote that "(c)ontinuing the bloated Pelosi spending levels and the chaos of Biden's open border is unacceptable. I will be voting NO on the 45-day clean CR today."
Tidewater-area Republican Rob Wittman voted with the majority in favor of the resolution and keeping the federal government open.
"Congress has a responsibility to keep our government open and operating in order to provide essential services to our constituents, while at the same time ensuring the government functions responsibly and effectively. We also have a responsibility to ensure our brave men and women in uniform and our border patrol agents continue to be paid for their service, which this bill will ensure," Wittman said in a statement.
Northern Virginia Democrat Jennifer Wexton said in a statement after the vote that "keeping the government open and preventing Virginia families from going through financial hardship without a paycheck is a top priority."
"After weeks of House Republicans recklessly wasting time pushing their extreme agenda, I'm glad we're taking the necessary steps to keep the government open, but we must continue with bipartisan appropriations work rather than partisan cuts that hurt Virginia families," Wexton said.
Central Virginia Democrat Abigail Spanberger wants Congress to learn a lesson from this latest Republican gambit to play politics with government operations.
"We should never have come this close to a government shutdown," said Spanberger, who is reportedly gearing up for a run at the Democratic nomination for governor in the 2025 cycle. "For days, thousands of Virginians I represent feared a situation where they would be forced to work without pay, become furloughed, or struggle to make ends meet. And for months, Virginia's businesses were sounding the alarm about the devastating effects of shutdowns on Virginia's economy. Many of my colleagues in the House GOP refused to listen to these voices. They were determined to bring down the very functioning of America's government for the sake of raising money, grabbing headlines, and getting the attention they so desperately crave. Speaker McCarthy rewarded this behavior for far too long — even though a bipartisan solution was clearly on the table to keep America's government open.
"We need to move away — sharply — from the idea that being an elected official means a blank checkbook to grandstand," Spanberger said. "As a country, we need to get back to the basics of governing — recognizing our shared challenges, hammering out differences, and finding a responsible compromise that averts disaster."