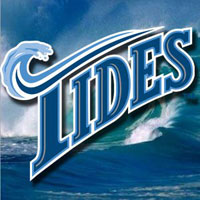 The Norfolk Tides scored four runs in the third inning inning Thursday and downed the Scranton Wilkes-Barre Yankees 7-3 in front of 6,008 fans at Harbor Park.
Batting with one out and the bases loaded in a 2-0 ballgame, Rhyne Hughes helped prolong the third inning with his legs. The right fielder hit a sharp ground ball to second base and barely beat out the throw at first, preventing an inning-ending double play and allowing the Tides first run to cross the plate. Brandon Snyder followed with a game-tying RBI single ahead of Ryan Adams's two-run double that gave the home team the lead for good.
Mitch Atkins (2-3, 3.11) cruised through most of his 6.0 innings on the hill. The righthander allowed just two runs on three hits, all of which came in the second inning. Jesus Montero led off the second inning with a solo home run. Mike Lamb followed with a triple to deep right field, and Brandon Laird knocked him in with a single to left field. Atkins calmed down from there and faced the minimum number of batters in each of the next four innings, despite issuing two walks and hitting a batter.
Adam Warren (6-3, 3.09) lasted 5.0 innings in a losing effort. He was charged with four runs on six hits before ceding the game to Andrew Brackman.
Matt Angle added his third home run of the season, a two-run shot in the sixth inning off Brackman. Brandon Snyder closed out the scoring with an RBI double in the seventh inning.
Three Tides pitchers combined to toss the final 3.0 innings with the only blemish coming on a solo home run by Lamb off Josh Rupe in the seventh inning.
The Tides will go for the sweep Friday night against the Yankees. LH Chris George (3-3, 4.10) gets the ball for Norfolk while Scranton Wilkes-Barre will counter with LH Kel Igawa (0-0, 2.16). A spectacular fireworks show will follow the 7:15 game.