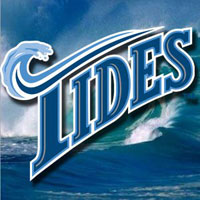 The Norfolk Tides lost for the seventh-straight time at Harbor Park Friday night, falling to the Gwinnett Braves 5-2 in front of 5,301 fans.
The Tides trailed all night after starting pitcher Mitch Atkins gave up a run in the 1st inning. Jose Constanza led off the 1st frame with a single and moved to third base on a single by Tyler Pastornicky. He came around to score a batter later on Matt Young's double play.
Atkins (2-4, 3.38), pitching in his first game with the Tides since being optioned back to Norfolk on July 19, calmed down after the shaky 1st inning and lasted 7.0 innings. He was charged with four runs on the night on six hits. He struck out three batters and walked three.
The Braves added two more runs in the 4th inning off Atkins when Pastornicky led off with his second of three singles on the night. He came around to score later in the frame on Mauro Gomez's double that hit off Robbie Widlansky's glove in right field. Stefan Gartrell, who had gone to third base on the double, scored a batter later on a sacrifice fly from Ruben Gotay.
The Tides had their chances on the night but left 11 men on base while hitting just 2-for-9 with runners in scoring position. They had a chance to take the lead in the 3rd inning, loading the bases with one out, but Jake Fox hit into a 6-4-3 double play to end the threat.
Fox had another chance to tie the game in the 9th inning off reliever Jairo Asencio. Kyle Hudson hit a one-out single and moved to 3rd on a walk to Ryan Adams. Following a Josh Bell groundout, Fox struck out to end the game.
Todd Redmond (7-8, 3.18) picked up the win after allowing two runs (one earned) in 5.0 innings. He gave up four hits while walking two and striking out two.
Asencio was credited with his 18th save.
Ryan Adams hit a solo home run to put the Tides on the board in the 6th inning. Tyler Henson delivered a two-out single that scored Bell later in the frame.
Kyle Hudson continued his hot stretch for the home team. The speedster recorded his second-straight three-hit game and is now hitting .429 (12-for-28) since returning to the Tides on July 17. It was his fifth multi-hit game of the run.
Gomez added a sacrifice fly that scored Pastornicky in the 6th inning. Constanza padded the visitor's lead with bases-loaded, two-out single in the 9th inning off Josh Rupe.
The same two clubs will meet again Saturday night at 7:15. RH Steve Johnson (0-4, 6.81) will try to turn things around for the Tides opposite RH Julio Teheran (10-1, 1.70).
Gates to tomorrow night's game will open at 5:00 to accommodate a pre-game concert on the field. Party Fins, a Jimmy Buffet Tribute Band, will play from 5:15-6:45. In addition, Reggy, The Purple Party Dude, will be in attendance to entertain fans throughout the game.