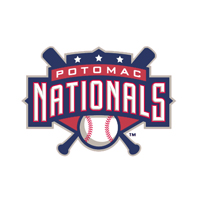 The Potomac Nationals (30-26, 16-11) renewed more magic at Pfitzner Stadium on Monday night with a three-run 9th inning to claim a 5-4 walk-off victory to complete a four-game sweep of the Salem Red Sox (27-29, 13-15). Nationals 2B Tony Renda lined a walk-off single to cap the P-Nats' sixth walk-off victory of the season and second of this series with the defending Carolina League Champions.
Washington Nationals 3B Ryan Zimmerman made a full nine-inning rehab start in left field. The former National League All-Star and Gold Glove Award winner donned the outfield grass for the third straight rehabilitation contest. The Major Leaguer went 2-4 at the plate with a pair of singles in the contest to finish his fourth overall rehab stint with the Potomac Nationals 5-for-14 at the plate with one double and three RBIs.
Renda, who went 4-for-4 in the game, finished a home run shy of the cycle. He scored the first run of the game in the opening inning off Salem starting hurler, RHP Pat Light when 1B Shawn Pleffner laced a run-scoring single into left field.
Renda has now enjoyed a pair of four-hit affairs during the 2014 ledger.
Light allowed two earned runs on six hits in 6.0 innings while walking none and fanning three.
Nationals starter RHP John Simms tossed 4.2 innings of baseball art. Simms painted the corners striking out seven Red Sox batters in the process. Simms ran into trouble though in the 5th inning giving up a leadoff home run to LF Kevin Heller cranked out to left field. SS Michael Miller brought home CF Aneury Tavarez in the inning as well with one of his three singles.
In a 2-1 game in the bottom of the 5th frame, Nationals C Pedro Severino launched a solo home run over the left field fence towards the corner to tie the game at 2-2. This was Severino's third longball of the 2014 campaign.
Salem took the lead back in the 7th stanza after a throwing error was committed by LHP Bryan Harper on a sacrifice bunt attempt costing the Nationals a chance to get out of the inning. Miller made Harper pay with a single up the middle to pick up his second and third RBIs of the game.
With a 4-2 lead, the Red Sox turned to fireballer RHP Dayan Diaz (0-1), who ended up as the losing pitcher of record. Diaz flew through innings seven and eight, allowing a solitary hit to Zimmerman and only one other ball in play, a 4-3 double play. Diaz struck out five batters in his 2.1 innings of work but would go on to blow his first save in 2014.
The 9th inning began with a Pleffner walk. After RF Randolph Oduber struck out, 3B Khayyan Norfork hit a sharp grounder to 2B Reed Gragnani and the ball ricocheted off his glove. Gragnani was charged with an error putting the tying run at first. During CF Will Piwnica-Worms' at bat, Diaz was called for a balk, advancing both runners 90 feet into scoring position. Piwnica-Worms promptly smacked a single up the middle for a two-run single to tie the game at 4-4.
After Red Sox RHP Madison Younginer relieved Diaz, Severino stepped up with a runner on first. Severino hit a hard ground ball to 3B Ryan Dent whose throw drew Gragnani off of second base for the second error of the inning which put two runners aboard once again. That brought Renda to the plate who ended it with a game-winning single ripped into right-center field delivering Piwnica-Worms to the dish.
The Nationals also "walked off" in Game Two via a Norfork game-winning sac fly to bring home Severino.
Potomac RHP Travis Henke (3-0), the winning pitcher, allowed one hit in the final 2.1 innings of the game without allowing a run. Henke fanned three and did not walk a single batter.
The Potomac Nationals Baseball Network, which is accessible at www.potomacnationals.com, will broadcast the first game of a three contest series on Tuesday, June 3rd. Live broadcast coverage will begin with the P-Nats Leadoff Show at 6:20pmin preparation for the 6:35pm first pitch from Frawley Stadium. Nationals LHP Matthew Spann (4-0, 1.85) will hit the mound to face off against Wilmington RHP Miguel Almonte (3-2, 4.72).