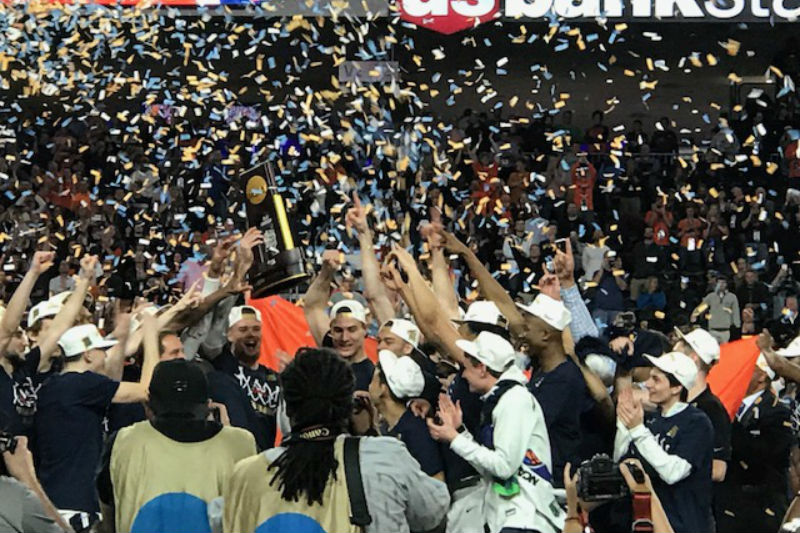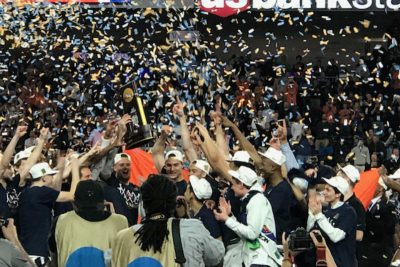 MINNEAPOLIS — As the confetti fell and that iconic tune started to play, Jack Salt slung his left arm over the shoulders of Kody Stattman and his right over those of Jayden Nixon.
Yes, Jack Salt — he of 128 career games and over 2,000 minutes as a Cavalier — slung his arms around two teammates who didn't have a big role this season as "One Shining Moment" began to play on the big screen. He didn't seek out the players he'd shared the court with Monday. He didn't seek out the coach who had started recruiting him six years ago. He didn't need to.
"All the players, the managers, the coaches, we're all on the same level," Salt said. "We all work as hard as we can to help achieve a goal, and that's to be the best we can. To finish with a national championship is a credit to everyone."
In the wake of Virginia's loss to University of Maryland – Baltimore County, the Cavaliers adopted the motto "United Pursuit." In the coming months, Tony Bennett would add other words — taken from the Bible, from TED Talks, from books, from other people. But "United Pursuit" remained above all others.
On Monday night, the Cavaliers unitedly pursued a national championship. They won it, 85-77 in overtime over Texas Tech, not because they did anything extraordinary. Yes, they had players who made difficult shots, who make perfect passes, who protected their own basket like their lives depended on it (and in Bennett's system, they pretty much do). But they didn't change. They didn't falter. They didn't panic.
"[Our mindset was] just to remain faithful to the little things," Ty Jerome said Monday. "Coach Bennett always talks about staying faithful, and he told us, 'don't grow weary in doing good,' and that's an every-possession mindset. It's a life mindset.
"Just play 'til that buzzer sounds."
***
They won because of De'Andre Hunter, who, when that final buzzer sounded, threw the ball as high as he could and took off to the other end of the court to embrace his teammates.
"That's just something I always wanted to do," Hunter said after the game. "I said, 'If I win a championship, I'm gonna have the ball, and I'm gonna throw it up as high as I can,' and it came true tonight."
Hunter picked a perfect time to have his best game as a Cavalier. The final statline is outstanding: a career-high 27 points on just 16 shots and nine rebounds to go alongside. The circumstances it came under make it even more impressive, because it certainly didn't look like it would be a career night for the redshirt sophomore early. He missed a layup right at the rim on his first shot. He was off the mark on a mid-range jumper — his bread and butter — on his second attempt. By halftime, he had made just one of his eight shots. And this was nothing new; Hunter had struggled mightily all tournament with his normally reliable jumper and his ability to attack the basket tournament. In that moment, as Virginia sat in the locker room leading 32-29, it seemed like the Cavaliers might need to find a way to survive another round without their top individual talent on top of his game.
Hunter had other plans. He would change the results, but he would, like the rest of his team, not change his composed approach.
"I wasn't angry," Hunter said. "I was just playing loose. I wasn't getting upset that I was missing. … In the second half, I just wanted to continue to do what I was doing in the first half. I felt like in the first half, I was being aggressive. My shots just weren't falling, and I knew in the second half, if I kept doing the same thing, they were gonna start to fall, and they did."
What happened over the next 25 minutes, though, was more than just shots falling. It was Hunter — the player who made this Virginia team different because he is such a great one-on-one player and next-level talent — saving his team. The rim, much less Texas Tech, proved no worthy adversary as he splashed down jumpers and muscled his way to the basket, rarely even drawing iron on his shots. Hunter scored 17 points in the second half and five more in overtime. No points were more important than the corner three he nailed to force overtime, though. And he didn't even know the ball was supposed to come his way.
"[Coach Bennett] was just telling me the play that we were running, because I don't think I knew it," Hunter said.
When it did find his hands, off a perfect pass from a driving Jerome, Hunter had one thought.
I was like, 'I have to make this,'" Hunter said. "That's exactly what I said in my head, and I shot it. It felt good, it was on line, and it went in."
Without Jerome, one of college basketball's great passers, that ball doesn't get there. Then again, without Jerome speaking at halftime, Hunter never even gets involved in the game.
"Ty just told me he loves aggressive me," Hunter said. "He's confident in me all the time, but just having that confidence going into the second half, I just knew I could be aggressive, and nothing bad could come of it."
This wasn't out of the ordinary, though. At Louisville during the regular season, Hunter sat for much of the first half with two fouls. When he came back a self-described "angry" version of himself, he scored 18 in the second half en-route to a then-career-high 26 points.
That version, though this time not fueled by anger, reappeared Monday night. Hunter's outstanding performance isn't one that will soon be forgotten. Hunter dove fully, for the final time this season, into another one of Bennett's key phrases: "The joy is in the competition." He repeated those words in his press conference, a smile coming to his face.
"I was really just having fun," Hunter said. "It was probably the most fun I've had all year, especially for this stage and all that was on the line."
***
They won because of a text Braxton Key received while sitting in Greek Art History class.
The NCAA hadn't yet cleared Key, a transfer from Alabama, for immediate eligibility, and the season opener was just days away.
"Coach Bennett texted me and said, 'Hey, give me a call,' and my heart kind of dropped because I kind of knew what it was," Key said. "I was like, 'Hopefully it's good news.'
"I called him after class, and it was great news."
It was great news for Key, who had applied for a hardship waiver to allow an ill family member to see him play immediately, and for Virginia, which used his defensively versatility, physicality and quickness throughout the year and again on Monday. In 28 minutes, Key had six points, a team-high 10 rebounds, two assists and a big-time block. Virginia outscored Texas Tech by 18 with him on the floor.
Key's playing time — like that of his fellow role players — had fluctuated throughout the year. He had played 10 minutes against Auburn and just two against Purdue. But he stayed ready.
"I kind of figured I'd play a lot," Key said. "Before the game, [Bennett] doesn't really tell you, but I just knew with their physicality and how big they were, how strong they were, I might have a chance to play. I was thankful to see play a little bit today; made my day."
Virginia's role players were key all year, though — not just Monday night. Key came through in crucial junctures when Virginia needed size, versatility and rebounding on the wing. Salt provided outstanding defense against big, physical post players. Mamadi Diakite became Virginia's go-to big man and hit the shot against Purdue that saved the season. Kihei Clark bothered opposing guards all year long and hit several important shots. Jay Huff provided an offensive and shot-blocking boost when called upon. While Hunter, Jerome and Kyle Guy provided the top-shelf skill any team needs to compete at a high level, the players around them provided the versatility needed to win a championship.
And while the "Big Three" rightfully drew most of the headlines, it was Key who provided the exclamation point with a breakaway dunk. Before the season started, he didn't even know if he'd play at all this season. He ended up putting the cherry on top of it.
"I'm just so blessed," Key said.
***
They won because of a coach who never wavered in his system or his beliefs or his faith. There's another phrase Bennett loves to use that shows how his consistent approach bred a consistent program: "Don't grow weary in doing good; for at the due time, you'll reap a harvest." This year's team embraced that one, too.
"These guys have been so faithful this year, and that's been such a joy to me," Bennett said Sunday. "And the players I've been under, when they faced adversity in a basketball sense — I'm not talking about a world sense, a basketball sense — they haven't grown weary in doing the right stuff."
Bennett didn't lose faith in his approach when Virginia suffered disappointment after disappointment or even when they suffered historic defeat. He, like any great coach, made adjustments to fit his personnel where he saw fit, but his core principles remained grounded in defense and efficient, opportunistic offense. The 85-77 scoreline doesn't change that.
Virginia averaged 1.21 points per possession in a 70-possession overtime game. That's right where the Cavaliers wanted the pace to be, and their multifaceted offensive attack made each possession count. Jerome, Guy and Hunter — the three faces of the program, all part of the star 2016 recruiting class —combined for 67 points.
"To see them come either in as young men or boys and grow into men, this season, I'll mention what happened last year — that can only mature you," Bennett said. "I don't know of anything else that would allow these guys to be able to handle this situation, to play through stuff and to have a perspective and a poise and resiliency unless they went through something that hard.
"They're really good players. They don't probably get enough credit — well, I think some of them do for their talent — but they had something different about them collectively."
Against one of the nation's premier defensive teams, especially on the interior, the Cavaliers lit it up from deep (11 for 24, 45.8 percent), a strength for them all year. Against one of the nation's most physical and aggressive defenses, the Cavaliers turned it over just 11 times, a testament to the preparation and play of Jerome, Guy and Clark.
On defense, Hunter and Key were terrific on Jarrett Culver, a likely future NBA lottery pick, and Matt Mooney, who had 22 against Michigan St. in the semifinal.
"They gave great defense," said Culver, who went just 5 for 22. "They played the whole time, they all played hard, they played together."
There's that word again, "together." Bennett preached togetherness from the start with his "United Pursuit" motto. But as Monday night turned into Tuesday morning, he had another group he had to join, as he told Jim Nantz.
"I can't wait to celebrate with my wife, my kids and my parents, and I do want to thank the Lord," Bennett said.
Those were the important ones. The ones who helped Bennett get to where he is and become the champion he is today. His dad was his coach, his sister a terrific athlete. He used faith-based quotes and applied them to the game of basketball, recognizing that not everyone shared his religiosity, but everyone shared his love for the game.
That's who Tony Bennett is. That's who Virginia is. And because of it, the Cavaliers are bringing their first-ever NCAA basketball championship trophy back to Charlottesville. Why be anything other than yourself when you can do that?
Story by Zach Pereles